Optivite launches new protection against mycotoxins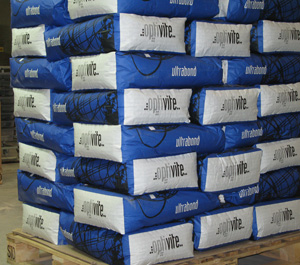 A new mycotoxin binder called Ultrabond has been launched by Optivite; it has high binding ability not only against the most common mycotoxins but also against many of the most dangerous.
No region or country is immune from mycotoxins and the risk of contamination is growing. Mycotoxin
binders are recognised as being hugely valuable in preventing them from being absorbed through the gut and into the blood circulation. Mycotoxin binders are especially effective when feeds and feedstuffs cannot be checked on a regular basis and other preventative methods have failed.
Ultrabond has a dual-action activity, which involves a combination of immune-supportive agents that empower the hepatic detox processes, by aiding health and liver function, together with an optimum balance of aluminosilicates – the surface area and structure of which maximise the absorption and retention of mycotoxins.
Moulds and mycotoxins form in all feed materials; they are an ever present danger and can be the root cause of many animal disorders. High levels can cause acute effects including hepatitis, paralysis and death while low levels cause the greatest economic loss, chronic effects and low performance. The binders used in Ultrabond attach themselves to any mycotoxins present in the gut and carry them harmlessly out of the animal.
Optivite has overseen a vast amount of work undertaken by accredited independent laboratories on dozens of binder ingredients. To avoid misinformation in the market, the company screened market leading proprietary brands and generic alternatives in order to compare accurately – efficacy was expressed on a unit toxin bound per gram of product to avoid any dosage effects.
"Ultrabond's dual action activity of physical binding combined with the acceleration of detox in the liver is crucial in preventing performance losses whatever the mycotoxin present in the feed," said Optivite's director of nutrition Richard Remmer. "It provides the widest possible spectrum of mycotoxin control both against common mycotoxins such as aflatoxins, ochratoxins, fumonisins as well as the most dangerous such as T2. It also effectively binds zearalenone and deoxynivalenol."
Richard Remmer went on to say that, "routinely adding a mycotoxin binder will provide the necessary assurance. In some cases it has been shown that certain binders are ineffective while some products are being recommended at a low dose rate in order to appear economic. The fact is that sub-optimal levels can be a complete waste of money as sub-clinical mycotoxin contamination will certainly depress performance and may lead to disease problems."
For further information on Ultrabond:
Optivite