Older pigs have particular requirements when it comes to amino acids. Specific amino acid ratios for older pigs should be tailored for growth and designed for a more developed digestion system. Younger pigs facing health challenges may need a different type of amino acid support as their internal systems focus on repairing intestinal damage from health challenges and helping animals grow. Immediately post-weaning, piglets often experience complications with feed intake and enteric challenges. Post-weaning issues can lead to damage in the intestinal tract and disrupt the rate at which feed travels through the gastrointestinal system, altering the absorption of nutrients.
The nutritional cost of immunity
Researchers have identified five evidence-based drivers of piglets' digestive health that can help guide diet formulation and support post-weaning animals: specialty ingredients, palatability, formulating for proper levels of proteins and fibre, feed safety and a correctly tailored amino acid blend.
When formulating diets based on amino acid components, dietary considerations should include animal age and the challenges they will be facing. Just-weaned piglets experience weaning stress, poor gut health and other conditions that trigger the immune system. Older pigs and those not facing health challenges require more support for rapid development of muscle. Those two situations rely on different first limiting essential amino acids, meaning the blends provided by diets should be tailored to produce optimal results.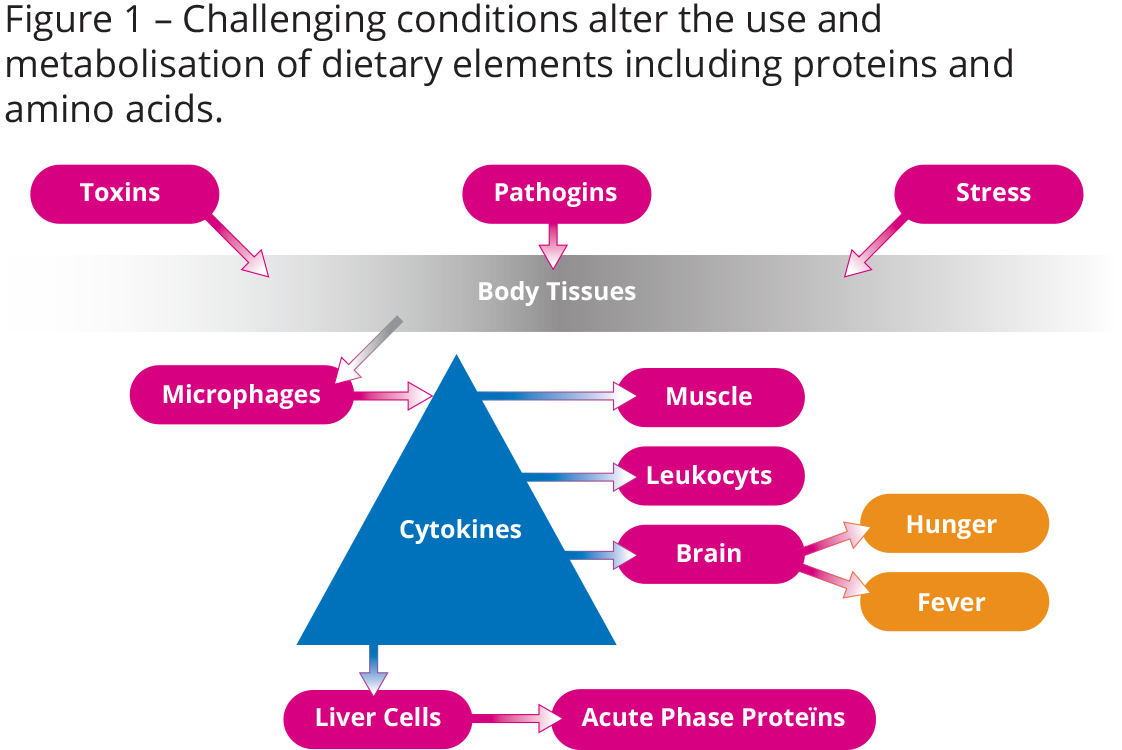 When the immune system is triggered, amino acids are called on to produce defensive proteins and immunoglobulins rather than supporting muscle development. That repurposing of amino acids means less support is available for muscle protein synthesis – in severe cases, it can lead to muscle breakdown. If feed composition is not adjusted, minimum amino acid levels may be unmet, potentially resulting in amino acid deficiency, malnutrition and the mobilisation of amino acids from muscle stores.
Research on a challenging situation dubbed the "nutritional cost of immunity" has found that triggering an immune response has been linked to an almost 30% drop in daily weight gain and muscle protein synthesis, even with high feed intake. Research indicates that when post-weaning piglets experience disease challenges, they either absorb nutrients less efficiently and/or redirect dietary elements to support immune function. That shift indicates that during the challenge-filled post-weaning period, the ideal amino acid profile should be different from one formulated for older or unchallenged pigs, focused on maximising muscle protein synthesis.
Situational influences on amino acids
The situational influence on pigs' amino acid needs raises questions about which amino acids take priority when gut development and immune system function are prioritised over protein muscle synthesis.
While the metabolic function of amino acids serves primarily as a building block for tissue proteins, they also support other purposes. Amino acids like leucine, glutamine and glutamic acid act as an energy source for tissue in the gut following weaning. Several amino acids, including methionine, cysteine, glutamine and glutamic acid, can also be converted into other amino acids, used in polyamine synthesis, act as a precursor for glutathione synthesis or maintain mucosal antioxidant status. Additionally, tryptophan plays a role in the indoleamine 2,3-dioxgenase pathway, which is triggered during an immune response or when post-weaning diarrhoea occurs. The varied use of amino acids emphasises that feed formulations based on amino acid level need to address what piglets are facing.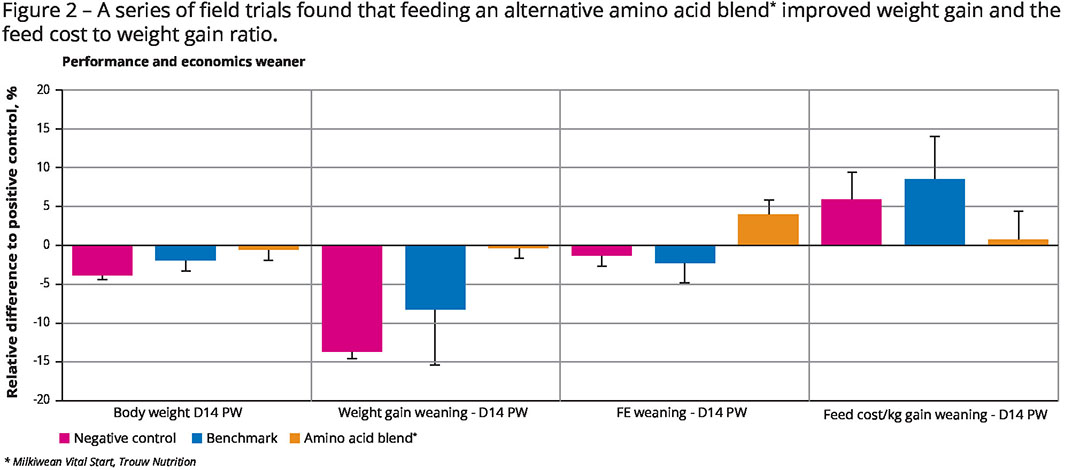 Research examining essential amino acid supports for piglets found that animals raised in conditions with low levels of pathogenic and non-pathogenic antigens grew faster and had higher standardised ileal digestible (SID) lysine needs than pigs exposed to disease challenges that triggered an immune response.
However, piglets exposed to a greater challenge from disease were found to benefit from a higher inclusion of a ratio of SID tryptophane/lysine. That alteration allowed piglets with an active immune response to still gain maximum growth. In situations where piglets faced an immune stimulation following a direct disease challenge, an increased ratio of SID threonine/lysine was found to maintain protein deposition.
Amino acids and feed ingredients
Amino acids also interact with other dietary components like fibre. When additional dietary fibre is added and maximum protein deposition is desired, the ratio of SID threonine/lysine increases, but only when the immune system is not engaged. When a health challenge occurs, levels of SID threonine/lysine ratios need to increase, regardless of dietary fibre, to maintain protein deposition. This suggests that increasing the amount of SID threonine/lysine can help prevent or manage compromised gut health.
When targeting amino acid requirements, it is important to consider the feed ingredients being used to provide the needed amino acids and how long those dietary components take to digest. Gut transit time may be increased in the post-weaning stage, leaving nutrients unused.
Meta-analysis findings
Growth experiments were conducted in several countries to explore the use of diets with alternative formulations of amino acids. A meta-analysis of those feeding trials looked at findings for more than 3,000 pigs. Results indicated that using an alternative amino acid profile supported a significant improvement in growth and feed efficiency during the post-weaning period while reducing mortality.
Promoting optimal health, growth and gain
Piglets face multiple issues from birth through to early post-weaning, but they can now be supported with an amino acid blend developed to nurture immune function. The Milkiwean Vital Start feeding programme is designed to promote optimal health, growth and weight gain. It incorporates nutritional supports, including AminOpt – an ideal amino acid profile determined by the challenges and needs piglets face immediately post-wean.
The formulating approach has been linked to a reduction in mortality, less need to medically treat pigs and a return on producers' investment.