Trace minerals must be delivered to the side of absorption in the gut in an available form to deliver the desired performance benefit in bodyweight gain, feed efficiency and carcass yield. Considering how different factors affect the actual level of trace minerals delivered to the animal can bring more precision to trace mineral supplementation.
Factors that can influence delivery of trace minerals
Some factors that can influence delivery of trace minerals include the source and chemical and positional stability of the trace mineral in a premix or complete feed. Inorganic minerals, such as sulphate, are weakly bond mineral complexes that have a high reactivity in premix and feed. This does not only affect their own availability, but also the availability or efficacy of other key feed ingredients such as fat, vitamins, enzymes, etc.
On top, the minerals compete amongst each other for absorption in the gut, which can lead to a reduced uptake of Cu when higher levels of soluble Zn are fed. Selko IntelliBond minerals are minerals that possess a covalent bond between a metal and a ligand, leading to a more stable complex, like you would see in organic minerals. IntelliBond has the metal atoms present in a crystalline structure, reducing the chances of reactivity further, which reduces the potential for degradation of feed ingredients, supports the enzyme stability and probiotic survival and improves nutrient delivery quality (Figure 1). Furthermore, IntelliBond minerals include a relatively high percentage of metal per kg of product, leading to more space in your formulation.
Figure 1: Vitamin E stability in feed Source: Lu et al.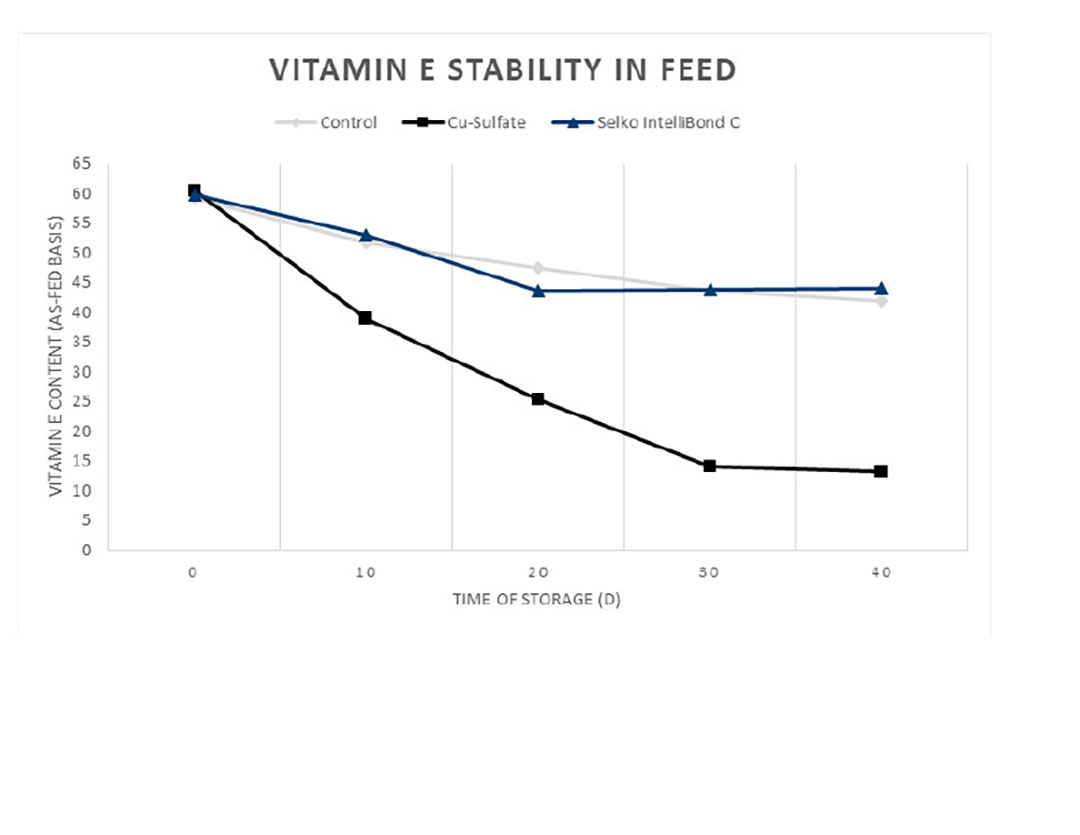 Particle size
One factor that is often overlooked when making decisions on what products to use is particle size. However, this is a vital question that needs to be answered when assessing which mineral to select. Particle size determines product behaviour and influences mixing, reactivity, solubility and eventually efficacy of a product. Particle size selection is a matter of finding the right balance between benefits and disadvantages.
Smaller particles might mix better, but they are more likely to segregate during shipping and have a large surface area for reactivity, affecting other feed ingredients as mentioned above. Therefore, even though 2 mineral sources can be regarded as chemically identical, the particle size can have a huge impact on product efficacy and your bottom-line results.
Minimum segregation and proper mixability
Selko has used the knowledge of industry experts from different areas of the production chain to determine the ideal particle size for the Selko IntelliBond mineral products offered called OptiSize. This ideal particle size is a particle size that minimises segregation in the feed or premix and ensures proper mixability during production.
The technological process that is used to create these particles ensures particle size consistency and highly uniform spheres as indicated by laser diffraction analysis. The results of this work indicated that OptiSize has the ideal particle size for improved blending/mixing, flowability, and reduce the carry-over risk
Studies indicated a more improved mixing in complete feeds as indicated by the coefficient of variation (a lower number indicates an improved mixing, see Figure 2). This is of particular importance for animals that have a low feed intake like piglets, as it is important that the little feed, they consume contains all the required nutrients, of which minerals is a vital one.
Figure 2 Coefficient of variation of Manganese within complete feeds. 10 feed samples were analyzed per batch and difference to expected levels is determined.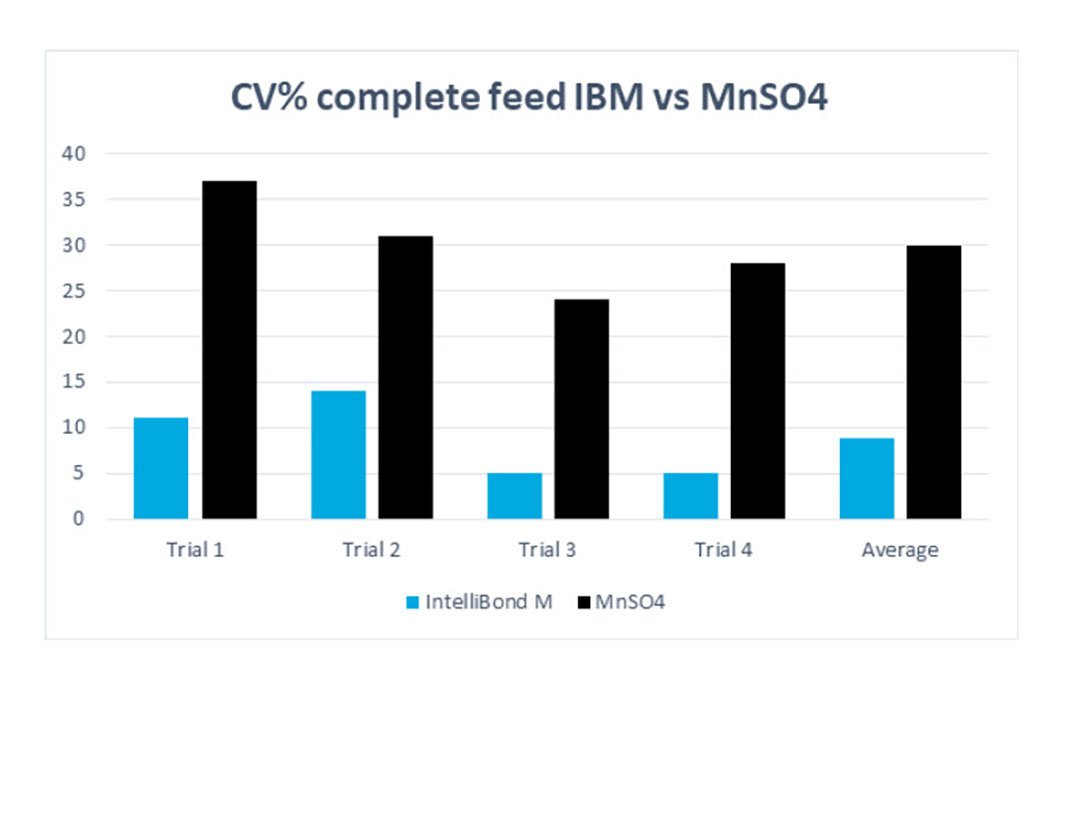 Reduction of dust potential
Furthermore, a larger particle size reduced the dust potential of the product, leading to a lower dust potential. Moisture retention was measured in premixes containing OptiSize IntelliBond minerals versus a premix containing a mixture of organic and inorganic minerals in a jungle room experiment, where a premix is moved to humid environment for 24 hours. The results showed an increase in weight for the IntelliBond premix of 1.4% vs an increase of 6.71% for the organic/inorganic premix.
Within the animal, the other way around
While during handling and production a relatively larger particle is preferred, within the animal it is the other way around. A smaller particle size will lead to a larger surface area, allowing for an improved availability of the mineral. This is not the case for unstable mineral sources such as sulphate, as a higher surface area there means more chance of reactivity towards other feed ingredients. However, as indicated above, IntelliBond minerals are fed in a stable form and as such benefit from larger surface area. OptiSize particles contain many smaller IntelliBond crystals, that due to its product characteristics become available when the product enters the GI-tract, as indicated in Figure 3. This greatly increases the surface area within the animal, ensuring availability of the metal to meet animal requirements and is something you don't commonly see in other hydroxy minerals as shown.
Figures 3 &4. The particle size distribution of IntelliBond® crystals in OptiSize™ vs other hydroxy trace minerals.

Selection of a trace mineral source
The selection of a trace mineral source is an important decision to support productivity and health. However, knowing how that source was added and mixed, along with its impact on other essential nutrients in the feed, are equally important parts of an effective precision nutrition strategy. Ultimately, the best trace mineral source is of little value if it is not consistently delivered in the correct amount and form required for peak animal performance and health.
Taken together, OptiSize technology allows for the delivery of many small IntelliBond crystals, packaged in one, optimal sized and uniform particles. This gives it the ideal handling characteristics during production, a reduced reactivity and improved mixability in feed and a larger surface area for improved availability in the animal to ensure animal requirements are being met. This helps producers mitigate the challenges of proper trace mineral feeding and supports both animal performance and producer economics.