New vaccine has twice the punch against Salmonella in pigs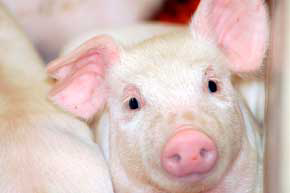 A new vaccine from Boehringer Ingelheim Vetmedica, Inc. (BIVI) can protect pigs against two of the most virulent types of Salmonella with a single, convenient oral dose administered by the drinking water or oral drench.
Enterisol® Salmonella T/C is the only swine single-dose oral vaccine labelled as an aid in preventing disease due to Salmonella Choleraesuis and Salmonella Typhimurium when administered by drinking water.
Either type of Salmonella infection can be harmful to pigs and costly to producers:
Salmonella Choleraesuis is more invasive and can result in septicemia, bronchopneumonia and death. Although there are no food safety concerns with S. Choleraesuis, it is more devastating in terms of mortality and lost production.
Salmonella Typhimurium infection is more localised. It causes diarrhea that can lead to dehydration and reduced performance. Because S. Typhimurium poses a food safety risk to humans, producers should be especially vigilant in preventing this disease.
"Extensive research has documented the vaccine's effectiveness against both types of Salmonella", said Greg Cline, DVM, technical manager for enteric products at BIVI.
"After the 14-day Salmonella Choleraesuis challenge period, clinical signs were significantly reduced in the vaccinated pigs" he said. "Specifically, there was no dehydration, mortality, abnormal body condition or fever. No clinical signs or adverse events from the vaccine were reported."
Results of the Salmonella Typhimurium study also are encouraging. "Vaccinated pigs had a significant reduction in clinical disease," Cline said.
The swine enteric vaccine is available in lyophilized (freeze-dried) or frozen formulations. It can be administered via the drinking water or oral drench to pigs as young as two weeks of age.
In addition, oral delivery of the vaccine results in less stress for pigs and greater convenience for workers by eliminating the need for injections. Oral vaccination through the drinking water may also improve worker safety and pork quality.