New outbreaks of ASF reported in Russia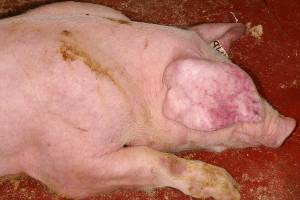 New outbreaks of African swine fever (ASF) have been detected in the Volgograd Region and Tula Region of Russia – reported the official website of the Russian Federal Service for Veterinary and Phytosanitary Surveillance (Rosselkhoznadzor).
According to the report, on 8 October Volgograd Region Veterinary Laboratory checked pathological material of a dead hog found on the Kletskoye hunting ground (Kletsky District of Volgograd Region). Genetic material of the ASF virus was identified during the tests.
ASF genetic material was also found by the Tula Oblast Veterinary Laboratory that tested the pathological material of a dead pig taken from one of the subsidiary plots in the Aleksin District of Tula Oblast. This is the first time the virus was detected in the districts of Volgograd Oblast and Tula Oblast.
The report says that the veterinary services of Volgograd Oblast and Tula Oblast under supervision of Rosselkhoznadzor are working to localise and prevent the spread of the infection.
As was reported earlier, ASF spread across virtually the entire European part of Russia. The pig-breeding industry is at risk of collapse in some regions. The situation is particularly alarming in Tver Oblast and the adjacent regions, as well as in Voronezh Oblast. The direct and indirect losses for the pig-breeding industry amounts to billions of rubles.