Korea moves to code red as FMD continues to spread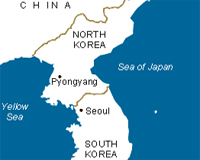 The government in South Korea has set up a crisis centre in an effort to contain the outbreak of Foot-and-Mouth Disease (FMD) that has spread through the country, Korean press agency Yonhap reports. Despite the efforts, four new outbreaks were reported earlier this week.
FMD was first confirmed in the end of November at farms about 270 km South East of the capital Seoul, has spread to other parts of the country since.
So far, more than 523,000 animals have been ordered to be culled from a total of around 1.5 million cattle, pigs, goats, sheep and deer raised in the country, with losses estimated to exceed 450 billion won (US$393 million).
Quarantine, decontamination, vaccination
In a joint statement, the Ministry of Public Administration and Security and the Ministry for Food, Agriculture, Forestry and Fisheries (MIFAFF) said the central anti-disaster headquarters will take charge of quarantine, decontamination and vaccination efforts currently underway and pool all available resources in an effort to end the outbreaks.
"The government will use all available resources, including the police, to help stem the disease that has continued to spread despite nationwide quarantine efforts," the statement said.
In addition, the country's alert level will be raised to "red" – the highest in a four-tiered response scheme – to reflect the seriousness of the situation.
The last time Seoul issued a red alert was when the country tried to combat the human influenza A outbreaks in the second half of 2009.
The government mobilised 172,348 quarantine personnel including public servants, soldiers and the police for the decontamination and culling process.
Vaccination programmes
The farm ministry, meanwhile, said it has expanded areas that will be given animal vaccines to control the spread of FMD. The first vaccines were administered on Saturday.
Authorities even plan to complete limited vaccinations of animals ahead of schedule.
The emergency measures are needed since the disease is spreading much faster than anticipated, officials said, admitting that they have not been able to determine why, despite 1,391 checkpoints in key areas and the closure of all 85 livestock markets.
Outbreaks
Despite the quarantine measures, last Tuesday, four additional FMD outbreaks were confirmed. MIFAFF said three cattle farms in the eastern province of Gangwon and a pig farm in North Gyeongsang Province tested positive for the disease.
The pig farm in Yeongju, with 13,000 animals, is around 230 km South East of Seoul and relatively close to where the first outbreaks were reported last month.
All four farms had been quarantined as of Monday after some animals started to drool excessively, refused to eat, and developed blisters on their snouts, tongues, and hooves. Quarantine and culling policies have been applied.