IPVS Congress, Vancouver: Facts & fiction around antibiotics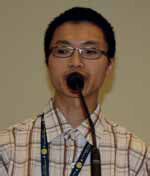 It certainly wasn't the first veterinary symposium this year where the theme of antibiotics was discussed. It was, however, the first place where a multitude of views on antibiotics, resistance and livestock could be heard at the same time. Progressive, conservative – these labels all seem to blur in a discussion in which the end is not yet near.
By Vincent ter Beek
Conservative, according to the Oxford dictionary, relates to 'averse to change or innovation and holding traditional values'. The same reference explains 'progressive' as 'favouring change or innovation'. In many sciences, especially in history, sociology, and journalism, these labels help to discern and divide, to comprehend the flow of affairs fairly quickly.
How to interpret a cause of affairs however, when what was once a leading example of science, progress and discovery is receiving increasing amounts of criticism and second thoughts. Is this progress towards a higher level of comprehension? Or is this a plea for a return to what once was?The topic is antibiotic use in livestock. Europe, the continent that likes to see itself as progressive when it comes to agricultural matters, has openly questioned the use of antibiotics in livestock for a decade at least. A majority of European (pig) veterinarian scientists seem convinced that limiting the use of antibiotics is sound as it may influence resistance to antibiotics in humans. In the EU, antibiotic growth promoters have been banned since 2006 and options to extend the ban to therapeutic use as well are being discussed in various European countries.'Unnecessary conservatism'. That is how this attitude is called across the ocean, mainly in the United States. Often heard is the American opinion that the use of antibiotics in livestock is safe and necessary. Recently, a discussion caught on as well as the US Food and Drug Administration (FDA) released a draft guidance in June, in which it states, almost defiantly to its own industry: "FDA thinks that using medically important antimicrobial drugs to increase production in food-producing animals is not a judicious use." Fierce reactions followed, as e.g. the US National Pork Producers Council (NPPC) has insisted that the agency 'didn't present any science on which to base this'. On top of all the controversy, a layer of politics blurred the picture even more. For many reasons, the International Pig Veterinary Society (IPVS) Congress, this July, in Vancouver, BC, Canada, came at the right time to get that clear focus again. Amidst well-covered topics of PCV2 and PRRS, antibiotic use received plenty of attention. This review zooms in on some general discussion and examples from several studies and presentations. Anything related to MRSA is left out, as it receives separate attention in the article 'MRSA in pigs: A link with cephalosporins?'
Right
Let's not forget about the reason why we started using antibiotics in the first place. That can be the conclusion after having listened to the presentation of Dr H. Scott Hurd, associate professor at the College of Veterinary Medicine, Iowa State University, USA. Having been USDA deputy undersecretary for Food Safety in the last Bush administration, he was invited by Pfizer Animal Health to speak on the topic of antibiotic use during the company's satellite symposium.
His central hypothesis was: "Full utilisation of antimicrobials is a veterinarian's ethical responsibility." He used five supporting statements to support this and drew conclusions from these:
There is a minimal public health risk from antibiotic use."All but one published risk assessment, which use the best available data on a causal pathway have demonstrated risks of less than one in one million that someone in the US will experience adverse treatment outcomes due to a resistant infection which originated from on-farm antibiotic use."
Healthy animals make safe food. "Healthy animals are less likely to carry food-borne illnesses. Therefore, carcasses of healthy animals are less likely to carry bacteria, and people are less likely to become ill after eating meat from them."
The world will need increasing amounts of pork. "The world population is expected to increase by 2.5 billion (~35%) by 2050. With more individuals on the planet, there will be a greater need to produce high quantities of food cheaply and efficiently."
Antimicrobials improve the efficiency of production."Antibiotics used as growth promoters or as preventative antibiotics help keep costs low for livestock owners. They decrease the amount of feed necessary per head, cause more and faster growth in animals because they are usually healthier than those not given preventative antibiotics and they reduce mortality, especially in weaner pigs."
The government and consumer groups do NOT always know what is best. "When food fads threaten to become food regulations, those of us charged with producing safe and economical food must be involved."
Hurd drew three conclusions. First, he said concern about antibiotic resistance does not equate to real public health risk. Secondly, he concluded there is a need for a 'systems approach' – viewing problems as part of an overall system, rather than reacting to present outcomes or events. Thirdly, and perhaps most importantly, he said the 'antibiotic use house' needs to be kept in perfect order, maintaining good veterinary oversight, judicious use, and good record keeping.
Staphylococcus hycius
Question marks with the use of antibiotics were plentiful at the Congress. Dr Jeonghwa Park, University of Guelph, Ontario, Canada, for instance, spoke about research by her team on Staphylococcus hyicus – a variety known to cause exudative epidermitis (EE), also known as greasy pig disease.
A survey at 30 farms in Ontario, using injectable tetracycline to treat EE, focused on the presence of a mecA gene, which determines the extent of antimicrobial resistance. Park observed: "…all isolates from cases of EE were shown to be resistant to not only penicillin but in most cases resistant to the entire family of beta-lactam antibiotics. These results explain why farmers reported a poor response to treatment of EE." Park concluded that treatment of greasy pig disease is thus a problem as a consequence of widespread antibiotic resistance. Since MRSA is also widespread at Ontario farms as well, she added that possibly antibiotic resistance determinants (genetic material) are spreading between S. hyicus and S. aureus.
PWCS: New pig disease, still many questions
At the first day of IPVS, Yanyung Huang, associated with the University of Saskatchewan, Saskatoon, Canada, revealed pathological results and an initial diagnostic investigation to PWCS, a relatively new postweaning wasting disease occurring in Canada. He did the research together with Prof Dr John Harding and Henry Gauvreau of Warman Veterinary Services. Porcine Postweaning Wasting/ Catabolic Syndrome (PWCS) has been reported by veterinarians since 2008, noting "persistent and sometimes extensive nursery mortality associated with anorexia and weight loss in PCV2-vaccinated pigs." It is suggested that the PWCS is 'likely to be infectious'. The variety Huang and others studied occurred at an anonymous 100 sow farrow-to-finish unit. Necropsy and histology showed the disease caused thymic atrophy, empty gastro-intestinal tracts and bronchopneumonia. Huang observed that PWCS always comes with: fundic gastritis, atrophic enteritis in the small intestine, colitis and rhinitis in the nasal mucosa. Tests, in which Brendan O'Connor of Prairie Diagnostic Services had also been involved, ruled out that the disease was caused by a whole series of plausible bacteria, viruses and parasitic pathogens, including e.g. PRRSV, PCV2 and influenza. Enteric calicivirus was highly present in several of the infected pigs, but is not known to cause any disease in commercial pigs. More research needs to be done to determine as to what pathogen(s), known or unknown, may cause the disease.
Alarming
How serious can the problem of resistance to antibiotics be exactly? A presentation by Belgian researcher Philip Vyt, from the Medic Lab, Diagnostic Laboratory in Aalst, was called 'one of the more alarming of the Congress' by the conference chair. Vyt dived into the theme of the effect of using several antibiotics to treat swine dysentery, caused by the bacteria Brachyspira hyodysenteriae. The disease causes eg. growth retardation in finishers and causes substantial economic loss in affected herds. Belgium has seen an increase of B.hyo over the last ten years. In his paper, Vyt wrote: "Until 2004, isolates were characterised as susceptible to pleuromutilins. Since the appearance of pleuromutilin-resistant strains elimination attempts at farm level have become compromised." His paper summarised the antimicrobial susceptibility of B.hyo isolates during 2008 and 2009 and included several different kinds of antibiotics; valnemulin, tiamulin, tylvalosin, lincomycin and doxycycline.
Belgium's national eradication programme is based on the use of the pleuromutilins, which is a type of antibiotic including valnemulin and tiamulin. Alarmingly, among these pleuromutilins, reduced susceptibility was observed; 40-45% for valnemulin and even 45-50% for tiamulin. About 40% had a reduced susceptibility for both pleuromutilins. In total, he found that all four antimicrobials were ineffective with 21 isolates (out of a total of 101 isolates from both years). Vyt wrote: "The present data show the widespread distribution of decreased susceptibility to pleuromutilins in Belgian B.hyo isolates. The decrease in susceptibility to both valnemulin and tiamulin reflects the problems on farm when treating animals infected with these strains." He launched a plea for setting up a national eradication programme along the lines of different antibiotic types – e.g. using tylvalosin in pleuromutilin resistant cases.
Problem
Summarising only two presentations, one can conclude that antibiotic resistance may be able to spread between bacterial sub-types; and cases have been reported in which resistance to antimicrobials has been as high as 50% or more. Does this also directly prove that the effective use of antimicrobials in humans is in danger due to the use of antibiotics in livestock? It doesn't. What it does show is that more answers are needed. And it also shows that even without directly affecting human health, resistance alone poses a big problem for pig producers.
It is up to individual people, companies, countries or international organisations as to whether to restrict all, part or no antibiotics at all – and for what stage of animal production or severity of disease level. For now, let's leave the labelling for future historians.