IPVS 2010: Satellite symposia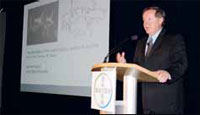 Bayer Animal Health
The only key speaker, Prof Dermot Hayes, Iowa State University, presented a vision on the future of pork production. His thesis comes down to the fact that it is easiest and cheapest to have the pork produced where the corn is grown – since it is much more cost effective to transport (chilled) carcasses instead of bushels of corn. His projections are particularly interesting when considering the future of China, the world's largest consumer of pork and a production market four times as big as the US market. It is his estimate that still 50% of the current-day pig production is produced in backyards. But China is developing rapidly. Indicating that the vast majority of the country is unsuitable for pig production, he said: "They can't keep increasing pork production in this area." The suggestion was clear – here are exporting opportunities for other countries, like Brazil or the USA.
Boehringer Ingelheim
This symposium, called 'Translating science into performance', discussed vaccination and the use of mixed vaccines. Prof James A. Roth from Iowa State University, USA, discussed the principles of immunology and vaccination. He explained the principles of virus-like particles, as they can be effective as vaccines for certain viruses. He further addressed that one-dose kill vaccines are effective provided they have sufficient antigen mass. Combination vaccines are becoming more common, said Roth. "However, these mixed vaccines must be tested for efficacy and safety." Dr Miljenko Antonio Atlagich Izquierdo, vet of Chilean integration Agrosuper, explained about his company's experiences with using the PCV2 vaccine Ingelvac CircoFlex. Dr Tom Gillespie, owner of Rensselaer Swine Services, USA, talked about misconceptions regarding vaccines. Other speakers included Bjarne Vest and Michael B. Hoof.
Intervet/Schering-Plough Animal Health
Prof Dr Paolo Martelli from the University of Parma, Italy discussed the immune responses which are generated when using a one-shot PCV2 vaccine (Porcilis PCV). He named the reasons for success for the single vaccine and that it elicits a strong and long lasting immune response. Josep Farreres (photo) from Cooperativa de Bellcaire in Lleida, Spain talked about PCV2 and mycoplasma vaccination: A practical approach. He concluded that simultanous vaccination of PCV2 and M.hyo helps to reduce piglet handling and in turn helps in improving animal welfare. Other speakers included Dick Hesse from Kansas State Veterinary Diagnostic Laboratory, USA, who updated the audience on Porcine Circovirus 2b: Infection, Cc-infection and protection and Brad Thacker (ISPAH) who shared some insights about the costs associated with PCV2 viraemia in finishing pigs.
Merial Animal Health
This symposium focused on the freedom of choice for pig producers. The company's vaccine, Circovac, is the only PCV2 vaccine suitable for vaccinating sows and this leads to good reproduction figures, said Dr François Joisel, the company's director of global technical services. Next, Edson Bordin, Merial Brazil, showed that the vaccine also shows good results when used in piglets, which is authorised in Brazil. Dr Tanja Opriessnig, Iowa State University, USA, talked about a study with two PCV2 vaccination protocols, either sow or piglet vaccination. She said the right strategy "depends on the time when the PCV2 problem occurs in the herd." Dr Jake Waddilove discussed two vaccination successes in the UK. Lastly, Catherine Charreyre, Merial, said there is still a lot that is not known about PCV2 – and that it is unclear how the epidemiology will evolve.
Novartis
Dr Nathan Winkelmann kicked off this symposium by presenting the effect of Denagard water medication against ileitis under field conditions and in challenge studies. He explained that dosage at 60 ppm showed good efficacy in pigs challenged with a high level of Lawsonia intracellularis. Dr Jake Waddilove spoke about the establishment of swine dysentery eradication programmes – practical experiences from the UK. Dr Fabrizio Agnoletti talked about the genetic characterisation and antimicrobial susceptibility of C. perfringens and C. difficile isolates from neonatal piglets. Dr David Burch had an interesting talk about pharmakinetic and pharmacodynamic relationships of tiamulin for enteric and respiratory infections in pigs. Dr Steven McOrist closed off by presenting the role of vectors in disease transfer, indicating the need for insect control measures.
Pfizer Animal Health
Pfizer zoomed in on the future of antibiotics. Don McDermid, Pfizer AH, Canada, talked about what prudent use of antibiotics would be – minimising, choosing the right type of drug, in the appropriate dose and duration. Alan B. Scheidt, Pfizer AH, USA, introduced the Individual Pig Care programme, a scheme of classifying sick pigs to help train swine producers earlier to spot disease. Last but not least, Jim Allison, director of veterinary professional services and new products marketing, Pfizer AH, discussed a different topic and told the audience about the latest findings around Improvac, a product to remove boar taint by the use of a vaccine. Especially after the vaccine's second injection, the male pig will go through a phase of adaptation. Acknowledging this can be a help in optimising management and nutrition.