Intervet/SP launches new atrophic rhinitis vaccine for pigs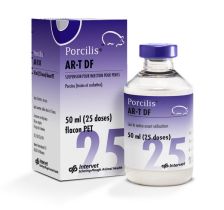 Intervet/Schering-Plough Animal Health has introduced a new vaccine against progressive atrophic rhinitis in piglets.
The vaccine, called Porcilis AR-T DF, is an inactivated vaccine with a new adjuvant associated with fewer injection site reactions.
The vaccine uses Diluvac Forte (DF), an aqueous vitamin E-based adjuvant and it will replace Porcilis AR-T, a similar vaccine containing an oil-based adjuvant. The newly formulated vaccine is approved to reduce the clinical signs of progressive atrophic rhinitis in their offspring.
Atrophic rhinitis
Atrophic rhinitis is an inflammation of the nose mucosal tissue of both suckling and growing pigs. During the process of infection the delicate turbinate bones in the nose become damaged and may shrink or become distorted. There are two forms of the disease: mild and non-progressive where the infection or irritation occurs over a period of two to three weeks. The serious disease form is progressive atrophic rhinitis where toxin-producing strains of P. multocida present in the herd cause a continual and progressive inflammation and atrophy of the tissues.
The clinical characteristics are nose bleeds, shortening of the upper jaw and reductions of daily weight gain, resulting in significant economic losses for pig farmers.
Pasteurella and Bordetella
The new vaccine contains protein dO, a non-toxic gene deletion derivative of the P. multocida dermonecrotic toxin as well as inactivated Bordetella bronchiseptica bacterial cells. B. bronchiseptica is often present with P. multocida and is considered an important predisposing factor for the disease. When pregnant sows are vaccinated, their immune system starts to produce antibodies, which are then passed onto the piglets via colostrum to protect them against the disease.
Field trials with the novel vaccine have shown good protection against the clinical signs of progressive atrophic rhinitis in piglets. In a direct comparative study of the new vaccine against the previous version (without Diluvac Forte), colostrum of vaccinated sows had comparable levels of antibodies against progressive atrophic rhinitis, whereas there were significantly fewer tissue reactions at the injection site in the novel vaccine's group.
In a placebo-controlled study, piglets from vaccinated sows were protected by the maternally derived antibodies against clinical signs of progressive atrophic rhinitis and had a higher average daily weight gain as well as higher carcass weight at slaughter as compared to untreated controls.
Related website:
• Intervet/Schering-Plough Animal Health