Huvepharma adds soluble tylosin to pig product range in Europe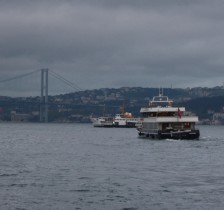 Animal health company Huvepharma has officially launched its new product Pharmasin 100% Water Soluble Granules (WSG) this week with a two-day seminar in Istanbul, Turkey.
The product is built around the macrolide antibiotic tylosin, to be used for pigs and poultry, for veterinary purposes. It had already been existing as a powder variety, to be used in premixes, but the company has now added a soluble variety to its portfolio, to cover all parts of the market.
Pigs & poultry
In poultry (broilers, pullets, turkeys), the product has received indications for use to prevent or cure respiratory infections caused by Mycoplasma gallisepticum and Mycoplasma synoviae; and also against necrotic enteritis caused by Clostridium perfringens.
In pigs, the product can be used to prevent or cure Porcine Intestinal Adenomatosis (PIA) associated with Lawsonia intracellularis and also enzootic pneumonia caused by Mycoplasma hyopneumoniae and Mycoplasma hyorhinitis.
Value of antibiotics
Several speakers in Istanbul focused on the value of antibiotics use – despite a tendency in some European countries to cut back on antibiotic use in Europe. Not surprisingly, one of the take home messages was that veterinarians need the widest variety tools of possible to help their livestock to stay healthy – and antibiotics should be among these.
On Wednesday, May 3, Prof Pascal Richez, spoke about pharmacokinetics, explaining the mode of action of tylosin – and explaining why soluble antibiotics may sometimes be more desirable – as antibiotics in water provide a constant intake even when animals are on a restricted feeding pattern.
He also presented 'formulas' so veterinarians can easily decide how much of the product to add to the water of certain target animals.
Multifactorial
The need to use antibiotics was the topic of various presentations the next morning. In a session dedicated to pigs, Dr Andreas Palzer, University of Munich, Germany, zoomed in on multifactorial enzootic pneumonia cases. Often, Mycoplasma hyopneumoniae is a key pathogen in these cases, destroying part of the lung cells, after which secondary pathogens can more easily affect the pig's respiratory condition in a negative sense.
Scientific research has already proven that M.hyo is 'co-operating' with other pathogens in pig lungs like PRRSV, PCV2 and Pasteurella multocida. Co-infections with Bordetella bronchiseptica and Mycoplasma hyorhinitis is observed but synergies have not been proven.
Vaccinating the pigs would be not sufficient enough to protect the piglets for 100% until fattening, he said, as early infections (before vaccinating) may not be prevented. In addition, when secondary pathogens are very aggressive, they may profit from initial damage already done by M.hyo.
Gut health in chickens
A similar message could be heard minutes later in the poultry sessions when Prof Filip Van Immerseel, University of Ghent, Belgium dived into the topic of gut health in chickens. In necrotic enteritis the key pathogen is the toxin producing bacteria Clostridium perfringens. Its effect is similar, as its presence may induce a lot of other secondary pathogens to also launch an attack on the animal's gastro-intestinal tract.
Other speakers included Prof Steven McOrist (University of Nottingham, UK), Dr Anneke Feberwee (University of Utrecht, Netherlands), and Prof Erik Van Vooren (DM Institute, Belgium).
Metabolisation
In the presentations it was emphasised that the soluble tylosin both is metabolised extensively and eliminated very quickly.
In addition, it was stressed that managing the stall climate is also a very important tool to prevent the occurrence of pathogens.
As from January 1, 2006, the use of antibiotics as growth promoters has been forbidden in the European Union to avoid the risk of creating resistant bacteria.
Related website:
• Huvepharma