How beneficial is live yeast in pig feeds?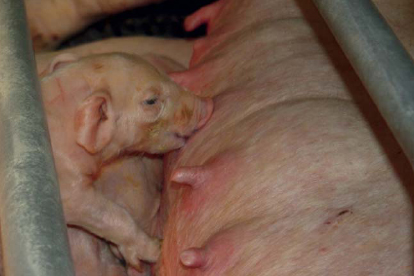 The use of live yeast in animals to improve nutrition has become more popular with increasing pressure on the use of and – in Europe – the ban on antibiotics. French yeast and probiotics specialist Lesaffre Feed Additives (LFA) in early November gathered more than 250 attendants to its International Nutrition Symposium in Lille, France focusing on the use of live yeast in pig nutrition.
Research and development is a major component of the Lesaffre group's innovation strategy. A dedicated R&D division was set up in 1965, and this today includes more than 120 experienced researchers. The R&D division's activities are chiefly focused on yeast and its constituent parts, ranging from basic research through to the application of various products in bread-making, brewing, winemaking, ethanol, or human, animal and plant health and nutrition. The group's projects require multidisciplinary skills ranging from genetics through to process engineering, with important sidesteps to microbiology, fermentation, chemical engineering, analytical chemistry and food sciences. All of these activities draw heavily on the company's budget and R&D is set at 10% of each business unit's sales volume.
Second generation probiotics strains are already positioned in the market. Developments of third generation are in progress and are aimed at animal well being, specifically on health aspects such as antigen improvements (IgA, IgG), anti candida yeast or yeasts attacking Clostridium bacteria.'Yeast as a nutritional aid in pig feeds without antibiotics' was the main subject for the one-day symposium LFA organised for its customers in early November in the Palais de Congress in Lille, France. Chaired by Joachim Brufau of IRTA, Spain and Eric Auclair of LFA, a broad programme with scientific and practical field experiences was presented.
Andrew Van Kessel, professor in Animal and Poultry Science at the University of Saskatchewan, Canada, kicked off the meeting by explaining the link between nutrition, microflora and the host. Animals are born with a germ-free digestive tract. Colonisation of this tract starts as soon as the animal passes the birth canal. Diet composition has an enormous impact on the number and types of bacteria present in the GI-tract. Closer to the subject of yeast was the presentation of Rosil Lizardo, researcher in monogastric nutrition at IRTA in Spain. He presented outcomes of a trial where Saccharomyces cerevisiae Sc47(Actisaf) yeasts were added to piglet feeds to observe growth performance and nutrient utilisation after weaning. From four studies with weaning piglets he concluded that utilisation of the yeast product has positive effects on productive performance after weaning and its inclusion in piglet diets could be recommended, in particular in high fibre diets.
Yeast and immunity
Henri Salmon, research director at INRA in France elaborated on the effect of live yeast on sow-mediated immunity. The survival of neonatal piglets directly depends on the acquisition of maternal immunity via colostrum, and milk affording systemic and mucosal protection, respectively. Milk immune cells' IgA originates from plasma cells, which in turn originate from separate compartments in the respiratory tract and intestine. This triggered the question whether feeding sows with live yeast would increase IgA in colostrum and/or milk. Without going into the details of Salmon's presentation on the nutritional processes in the animal it became clear that live yeast exhibits various probiotic properties, enhancing the sow-mediated immunity, probably by intervening at several complementary levels, the resident microflora of the gut and the gut epithelial cells.
"Can we imagine an effect of curative use of live yeast in suppressing unwanted bacteria in the gut?" This question was posed by Romain D'Inca, swine R&D manager for LFA in France.
Pig gut microflora are particularly susceptible to disturbance through different stresses such as weaning, antibiotic use and feed changes, which give opportunities to pathogenic bacteria to colonise the gut. Live yeast as a probiotic can help avoid microflora imbalances in the gut. Complementary mechanisms between the yeast and some pathogens have been found. D'Inca illustrated this with examples of the ability of yeast efficiently binding Salmonella typhimurium, cleaving A-toxin of S. difficile, avoiding K88 enterotoxigenic E. coli-induced inflammation, stopping C. albicans overgrowth and more globally, increasing local immunoglobulin (IgA) production. "Surely these specific mechanisms of action against pathogens will not replace the preventive use of live yeast on the nutritional side. But its ability to directly interact with some pathogens or their metabolites is of high interest to intend complementary uses in situations where the pathogenic pressure becomes critical," D'Inca ended.
Czech experiments
In the Czech Republic at the Veterinary Research Institute in Brno a study was carried out to address the following questions. Can supplementation of Actisaf Sc47 to
• pregnant sows improve the transmission of passive immunity via colostrum?
• sows and their piglets in the early stage of life increase the growth rate?
• weaned piglets help the struggle against post-weaning diarrhoea caused by enterotoxigenic E. coli?
Dana Kumprechtová, independent consultant, presented the results, from which she concluded that supplementation of live yeast had a positive effect on the improvement of the transmission of passive immunity via colostrum, the increase in the growth rate in the early stages of life and helped reduce post-weaning E. coli diarrhoea.
Jan Bernardy, university lecturer and deputy of the swine clinic at the Faculty of Veterinary Medicine in Brno, Czech Republic, more or less came to the same conclusions. He tested the effect of live yeast on recurrent colibacillosis in field conditions, a farrow-to-finish unit with 600 sows. It was found that the supplementation of Sc47 may have reduced pathogenic E. coli strains and diarrhoea occurrence. Bernardy concluded that Sc47 may provide a way of improving pigs' health. "It seems that Sc47 could be an alternative for antimicrobial treatment and prophylaxis of intestinal disorders in pigs," he said.
Field veterinarian Philippe Le Coz also concluded that feeding live yeast to sows during gestation and lactation has a positive effect on colibacillosis in field conditions. "Field trials conducted in France have proven that the use of Sc47 increases litter weight by about 7.4%," he said. Furthermore he found that mortality decreased in association with reduced diarrhoea occurrence and relapses, leading to lower curative treatment needs. "Feeding live yeast in combination with specific immune stimulation via autovaccines use and non-specific immune stimulation by a digestive contamination of the sows is, in my opinion, a promising approach to control neonatal diarrhoeas," he said.