The day of 11 January 2022 was one to remember in Thailand's swine industry. That was the day the Thai authorities publicly announced that African Swine Fever (ASF) virus was present in Thailand, in a slaughterhouse in Nakhon Pathom province. With that report, Thailand was the last country in the mainland of South-East Asia to officially confirm the presence of the virus – after Vietnam, Myanmar, Laos and Cambodia (in 2019) and Malaysia (in 2021).
Soon after this initial report, more outbreaks were shared through the World Organisation for Animal Health (WOAH), effectively showing that the virus was present in all corners of the country. The number of officially reported outbreaks now totals 114 – for an updated interactive map, see below.
ASF spreading among small farms in Thailand
That number of 114 is a fragment of a much bigger story. In line with reports from surrounding countries, it is most likely that ASF virus entered Thailand some time before January 2022. And even though the infections remained in the background, they did have a profound impact on the Thai pig landscape.
In Thailand, the dense areas for pigs are the west, the northeast and the north
In March 2022, lecturer Suwanna Sayruamyat of Kasetsart University in Thailand wrote in a scientific paper in FFTC-AP Agriculture Policy Platform that the number of swine raisers in Thailand decreased with 43% as a consequence of ASF. She added that a large portion of the farms that were impacted by ASF were very small. That is, from 1 to 50 pigs. These backyard farms come and go depending on the economic situation in Thailand. They emerge when pork prices skyrocket and vanish when they slump, and sell the pork on local wet markets.
ASF Thailand problematic for small and middle-size farms
Professor Roongroje Thanawongnuwech is a veterinary pathologist at Chulalongkorn University in Bangkok, Thailand. He confirms ASF has mainly been a problem for small and middle-size farms. "In Thailand, the dense areas for pigs are the west, the northeast and the north. When they were hit, it applied to smallholder farms only. That is why we do not see much of it in the news, because smallholders do not always report. In those cases, the farmers do not send samples to the lab. They just bury the pigs."
Prof Roongroje stresses the importance of the publication of the news in January 2022. He says, "The authorities said it was time for an announcement, in order to better control the disease. Otherwise, they could not implement certain regulations related to animal movements. That is why the virus had been able to get from the northern part into the centre of Thailand."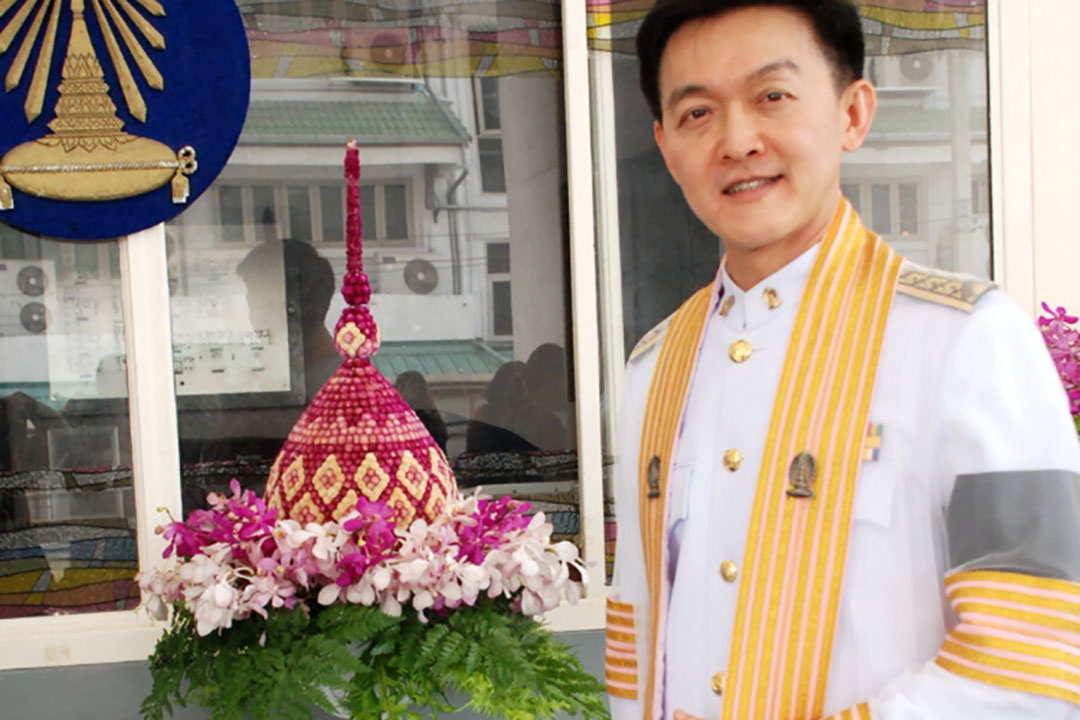 Impact on pork prices in Thailand
Where smaller producers took a big blow, Thailand's bigger producers – for example Charoen Pokphand Foods, Betagro or Thai Foods Group – managed to mostly escape that fate, explains Prof Roongroje. So even though the number of swine raisers came down by 43%, that did not apply to the total number of sows. He estimates the reduction in their numbers to be 20–30% maximum, which is different from China or Vietnam where estimates were at 40–50%.
Integrators, who own the majority of breeding stock, were prepared for the arrival of the virus, he says. "Bigger farms knew very well that biosecurity is the key to controlling the disease. They did not have a lot of problems with their breeding farms. If you look at the sow numbers within the bigger companies, they have even increased. So in terms of repopulation of farms with sows, that could happen much faster in Thailand than we have seen in China or Vietnam."
Increase pork prices not as dramatic
Still, as for elsewhere in Asia, the outbreak also led to higher pork prices throughout the country as the virus caused a shortage. Prices for 1 kg or pork loin rose to a level of over 200 baht (€5.60) in July 2022. The US Foreign Agriculture Service reported that in the first 8 months of 2022, the price for 1kg of pork loin had increased by 32% compared to the same period in 2021.
Again, Prof Roongroje places this in perspective, as the increase of pork prices in Thailand was not as dramatic as what happened in China or Vietnam. This was partly due to the fact that none of the commercial breeding farms were infected, he says, so a continuous flow of breeding animals was kept intact.
One other way prices were affected was related to demand being slightly lower than normal. That was related to Covid-19. "During the pandemic, tourists stopped travelling. So the demand for pork was not that high," he says.
Learning from the neighbours
The country had the competitive advantage of being able to watch what happened in China and Vietnam. Prof Roongroje says, "We learned about their weak points, and why they got the disease quite rapidly. The Thai authorities, the Thai Swine Veterinary Association (TSVA) and the Thai Swine Raisers Association have been able to work together. We knew exactly what ports of entry the disease could take. We applied disinfectants for incoming vehicles, and a lot of infected products were confiscated from airports and other ports of entry.
"As soon as the outbreaks in China happened in 2018, the TSVA started group meetings with the Food and Agriculture Organization (FAO). That is when we started to develop our Clinical Practical Guidelines. We began to send the veterinary practitioners to farmers to stress the importance of biosecurity. This is how we tried to educate the industry."
Biosecurity
The announcement in January 2022 led to an increase in initiatives. "When the outbreaks started to occur in Thailand too, we added a new chapter to our guidelines, on repopulation," Prof Roongroje adds. It was a strict biosecurity checklist for (smaller) producers who are considering getting back in the game.
Prof Roongroje thinks that while some may have left the industry altogether, others are currently being tempted by high pork prices. The majority of the restarters will comply with the biosecurity checklist, he thinks, but not all. "Of course, there will always be some farmers who will take a risk, and the disease will come back to them. If producers want to repopulate, they will have to make sure it is going to be the last time they invest money. If farmers do not practise biosecurity, then investments will go down the drain."
Other new initiatives include the introduction of guidelines for what to do if farms are hit by ASF. In addition, academic initiatives have begun. They prepare for working towards disease-free zones or provinces in the future.
Vaccination
Vaccination is not a road that Thailand chooses to pursue very strongly, says Prof Roongroje. In doing so, the country deviates from Vietnam, where the industry has started using a newly developed African Swine Fever vaccine since 2022, with mixed experiences so far. The Thai authorities have not permitted the (experimental) use of any ASF vaccine. Prof Roongroje says, "Vaccination is not a priority for Thailand. We would like our country to be free from ASF, even though we do not know in how many years from now. If we allow producers to use a vaccine, it is hard to ever get free, because people like to go the easy but ineffective way."
After we had the ASF outbreak confirmed, people did not want to have contact with their pigs, and they even withdrew a lot of vaccinations
Effect on other viruses
A somewhat unexpected effect of the ASF outbreak relates to veterinary practices in general. Prof Roongroje wrote an article in Frontiers in Veterinary Science to describe how ASF has impacted the control of Porcine Respiratory Disease Complex (PRDC). That is usually characterised by a multitude of different pathogens and needs to be treated.
Prof Roongroje says, "After we had the ASF outbreak confirmed, people did not want to have contact with their pigs, and they even withdrew a lot of vaccinations. Especially for circovirus, if the pigs do not get their vaccination they will show clinical signs later. Right now ,the vaccine companies are a bit worried that they cannot sell that much. Perhaps in the near future, we can also apply robots for monitoring and even vaccination, so we do not have to use people as much."
Complicating the viral picture even further is the habit of starting to use finishing animals for breeding purposes in order to meet the demand for pork. That way, naïve replacement breeding animals will be contaminated by animals from the finishing department. Prof Roongroje says, "In Vietnam we saw this a lot. In Thailand we had a few cases like that as well, but not as many."
Situation getting under control
The occurrence of ASF has accelerated a well-known tendency happening in many Asian countries and elsewhere on the planet, towards more professionalisation of the industry. It comes with more awareness of biosecurity and the bigger farms growing bigger – at the expense of small-size farms and backyard production. With the announcement in January 2022 and the ensuing regulations, the epidemical situation improved, bit by bit, Prof Roongroje says. Yet that does not mean that the virus will be a thing of the past in Thailand any time soon.
He foresees that in 2023, outbreaks will continue to occur. "This year, we will have a lot of tourists. The demand for pork will grow. As a result, many small and middle-size farms will be 'reborn' and repopulated. Also, some pig or pork smuggling may occur. So I believe that this year you will continue to see several outbreaks, maybe even more than last year."
All in all, did Thailand do things well with ASF? There are always things that could have been better, Prof Roongroje says. "It depends on which country you compare it to. If you compare Thailand to Taiwan – that country is the best, because the authorities there are very strong and strict. If Taiwan gets a 100% score, Thailand would get a 70–80% score."