Social stress assessment in pigs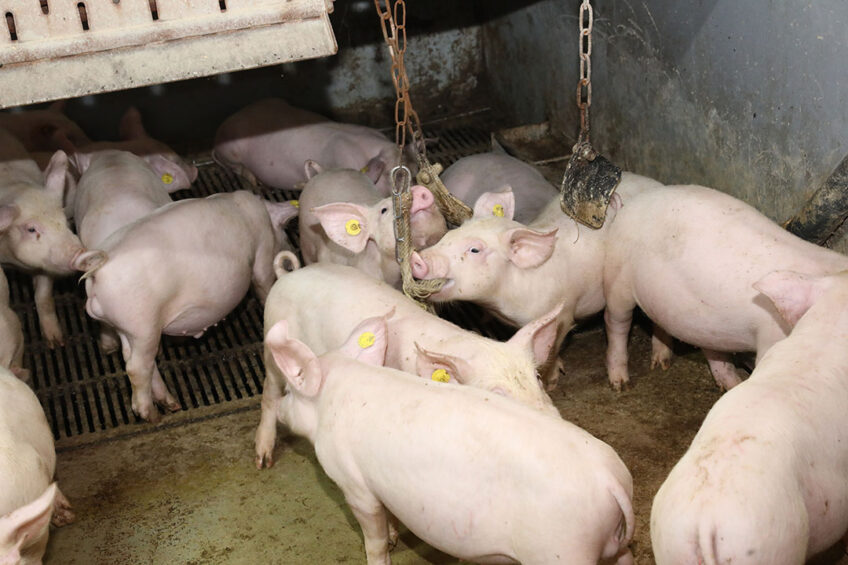 Pigs are exposed to social stressors due to high density and mixed housing. What is the definition of stress, what are stressors, and how do pigs respond to it?
The swine industry's evolution towards intensive large-scale production systems has increased pigs' exposure to environmental, physiological, and social stressors. Stress has a detrimental impact on health, welfare, and production efficiency.
Stress decreases appetite and feed intake, and enhances energy and nutrient expenditure. It also increases susceptibility to infectious diseases, and lowers economic profitability. In addition, the negative impact of social stress on pig welfare affects consumer perceptions of pig products and decreases acceptability.
Stress, stressors, and stress response
Stress is defined as a biological response to an event that the individual perceives as a threat to its homeostasis. Stressors are events or situations that trigger stress For instance: extreme thermal conditions cause thermal stress, and density and mixing during housing lead to social stress. Eposure to pathogens and other microorganisms triggers immune-related stress. Stress is a physiological response to keep the physiological balance while experiencing effects of a stressor.
Changes in the social orders due to regrouping lead to aggressive behaviour, injuries, and physiological reactions that negatively impacts pig welfare
What is social stress?
Social stress in pigs is created at various stages during the standard production cycle. Pigs are social animals living in well-established hierarchical groups. Changes in the social orders due to regrouping lead to aggressive behaviour, injuries, and physiological reactions that negatively impacts pig welfare. Social stress increases cortisol concentration, acute phase protein levels, and immune activity. It also alters several hematological parameters, decreases weight gain, depresses the immune development of piglets, and reduces pig performance.
Animal-based indicators of social stress
Application of animal-based indicators to assess the response to social stress is a common practice in swine production systems. Animal-based indicators are quantitative measures used to evaluate and predict animal performance under social stress. These indicators should be reliable, feasible, properly developed, optimised, and standardised to generate accurate and trustworthy observations. Animal-based indicators for social stress include causal indicators (i.e., behavioural, and social interactions, and lesion scoring), biological response indicators (i.e., cortisol concentration), and consequence indicators (i.e., vocalisation and performance).
Causal indicators of social stress
Behavourial and social interactions are animal-based measures used to quantify the incidence of agonistic behaviour such as fighting, biting, nudging, mounting, chasing, and intimidating behaviors among pigs. Lesion scoring is a causal indicator of dominant-subordinate relationships considering that more aggressive pigs initiate agonistic encounters, creating higher lesion scores for victimised pen-mates. Lesion scoring has some limitations due to difficulties in detecting less intense shorter agonistic interactions such as nudging or intimidation that do not generate observable injuries.
Biological response indicators of social stress in pigs
An increase of the cortisol concentration in blood, saliva, hair, and feces is the initial biological response indicator of social stress. This is linked to reduction in thyroid hormone circulation, and an increased risk of ulcers in the stomach. It is also linked to enhanced risk of immune dysfunction, and increased susceptibility to infections and illness.
Consequence indicators of social stress in pigs
Vocalisations is a behavioural indicator and a consequence of social, environmental, or health stimuli. However, application of vocalisation as an animal-based indicator needs to be developed to improve validity, reliability, and feasibility of this measure. Another consequence indicator is pig performance, including growth and feed intake. This displays the effects of stress on the pig integrity and production performance.
Concluding remarks
Stressors negatively affect pig health, welfare, production, and profitability. Thus, monitoring stressors may lead to more efficient management and nutritional strategies to mitigate those detrimental impacts. Currently, there are 3 types of animal-based indicators used to monitor the impact of social stress in pigs:
those that evaluate the cause of the stress;
those that measure the biological response to deal with the stressor;
those that assess the consequences of stress.
It is notable that social stress assessments using a single animal-based indicator may fail to provide a precise diagnosis of the stress response in pigs. Therefore, it is recommended to consider a set of animal-based indicators to obtain complete stress monitoring. In addition, measuring animal-based indicators involves some degree of invasiveness, discomfort, stress, and fear reactions which affect the accuracy of the measurements. Therefore, it is important to develop techniques that minimize stress during measurements and improve pig welfare.