Despite great efforts across production and between sectors, Salmonella remains a massive public health concern. In addition, the economic impact of an on-farm outbreak cannot be overestimated. Nowadays, understanding about the transfer and proliferation of Salmonella has increased significantly, including the realisation that Salmonella control requires a holistic approach.
From this perspective, certain probiotics have been added to the manager's toolbox to help mitigate Salmonella during production. Salmonella control strategies become of utmost importance in production systems that have to adhere to additional standards, such as biological or organic production – where the use of some traditional tools is restricted.
A probiotic based on a C. butyricum strain could provide a solution. Why would such a probiotic be worth considering?
Firstly, because it is a spore former. In the spore form, the bacteria is able to pass through the more hostile environment in the initial segments of the gastrointestinal tract without losing viability. Once the spore reaches a location with the right conditions, it germinates into active vegetative cells.

Secondly, because C. butyricum is an obligate anaerobe, meaning that it will only germinate when and where the oxygen concentrations are low enough (at hindgut level). C. butyricum ferments the available substrate in the hindgut, releasing significant amounts of butyric acid (which the animal uses in its butyrate-dependent metabolic processes).

Lastly and of key relevance, because the proliferation of C. butyricum keeps the environmental conditions adverse to the overgrowth of pathogenic bacteria, such as Salmonella.
Field trials challenge
To support such a strategy, animal health company Huvepharma conducted a series of field trials to demonstrate the value of its C. butyricum based probiotic, called Top Gut.
Organic pig farms dealing with clinical diarrhoea and a Salmonella level 2 rate (high seroprevalence in carcasses) were engaged to join a programme of starting to use the C. butyricum probiotic and record Salmonella seroprevalence results.
The probiotic treatment (5×108 CFU/g product) was given during the full trial period, with dose being adjusted depending on body weight: 1 kg/t of feed from 10–40 kg body weight, followed by 0.5 kg/t of feed from 40 kg body weight until slaughter. The research team measured Salmonella seroprevalence by sampling at the start of the trial and at the end. The researchers recorded sample results (about 40 samples were analysed per sampling instance).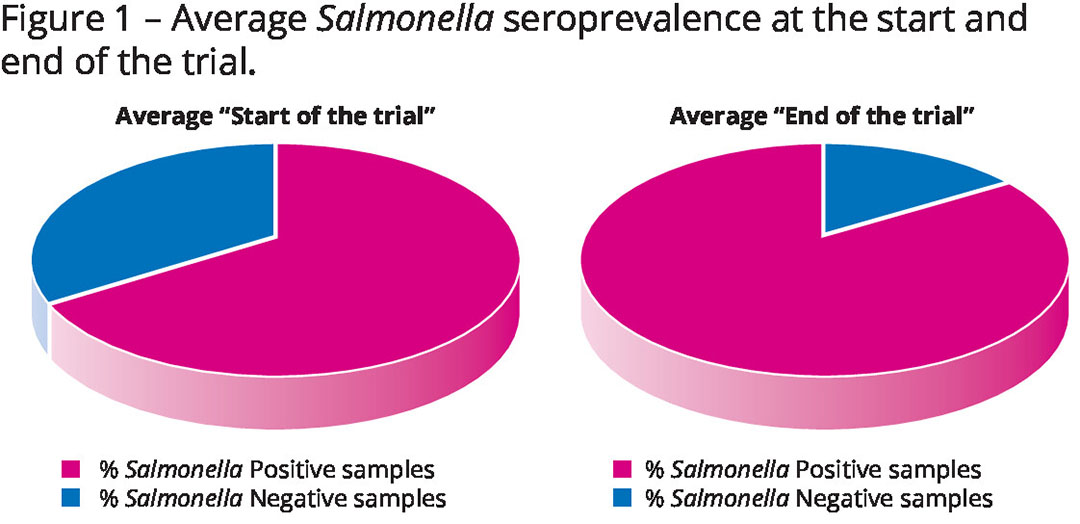 Results
As shown in Figure 1, on average, farms saw a significant Salmonella seroprevalence drop when comparing sample results from the start and end of the trial. It was also shown that the inclusion of C. butyricum significantly lowered the relative risk of a carcass being classified as Salmonella seropositive. Moreover, improved faecal scores were reported as well.
Overall, the tested probiotic programme allowed the ­reclassification of tested farms to Salmonella level 1.
Conclusion
Salmonella control strategies need to take into consideration multiple factors of the production system. C. butyricum based probiotic demonstrated that it has an essential place as part of farm gut health management plans and a key role in the strategies to reduce food safety related pathogens, such as Salmonella, in organic swine farming.