The USDA report forecasts that the 2023 pork production will be higher than in 2022 and lower than in 2021 because of a resurgence of ASF cases in Luzon and Mindanao.
ASF outbreaks in the Philippines
ASF outbreaks have been reported in Cebu province on March 7, 2023, and in BARMM on March 27, 2023. This leaves the national capital region as the only region without ASF cases. Figure 1 shows the ASF zoning status as of March 27, 2023.
Figure 1: ASF zoning status as of March 27, 2023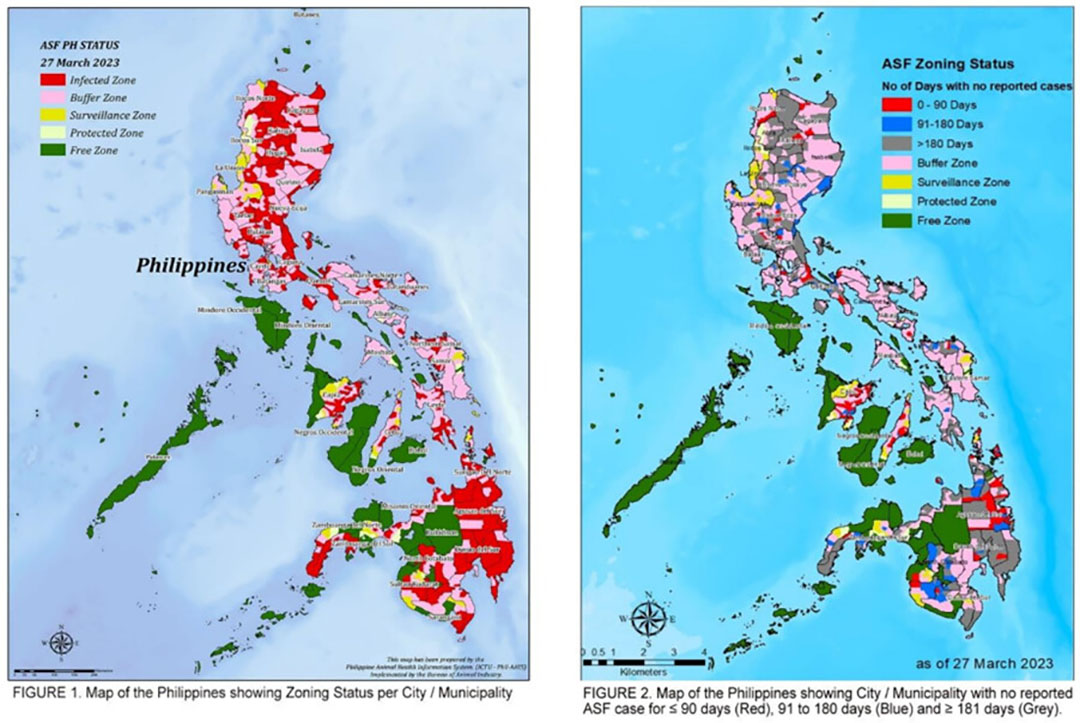 Source: Department of Agriculture-Bureau of Animal Industry
Pork production and consumption
The USDA estimates the 2023 pork production to be 975,000 MT because of the latest ASF outbreaks in Cebu, a major supplier to Metro Manila, and Maguindanao del Sur. However, the first quarter of 2023 shows a 5% increase in pork production.
Focusing on regions, the Central Luzon region saw an increase in pork production of 26% from 2021 to 2022. However, this trend in Luzon might not replicate itself as the recent outbreak of ASF in the region might not favour such a growth rate.
The biggest decrease, 35%, in pork production between 2021 and 2022 was registered in the eastern Visayas region. On the other hand, FAS Manila forecasts the 2023 pork consumption to be lower because of food inflation. This leaves little purchasing power for pork.
Pork prices
Local pork belly prices have increased since the ASF outbreaks in Cebu and Maguindanao del Sur occured. Meanwhile, imported pork prices are still significantly below the local pork prices, making it competitive (Figure 2).
Figure 2: Pig/pork prices, January 2021 to March 2023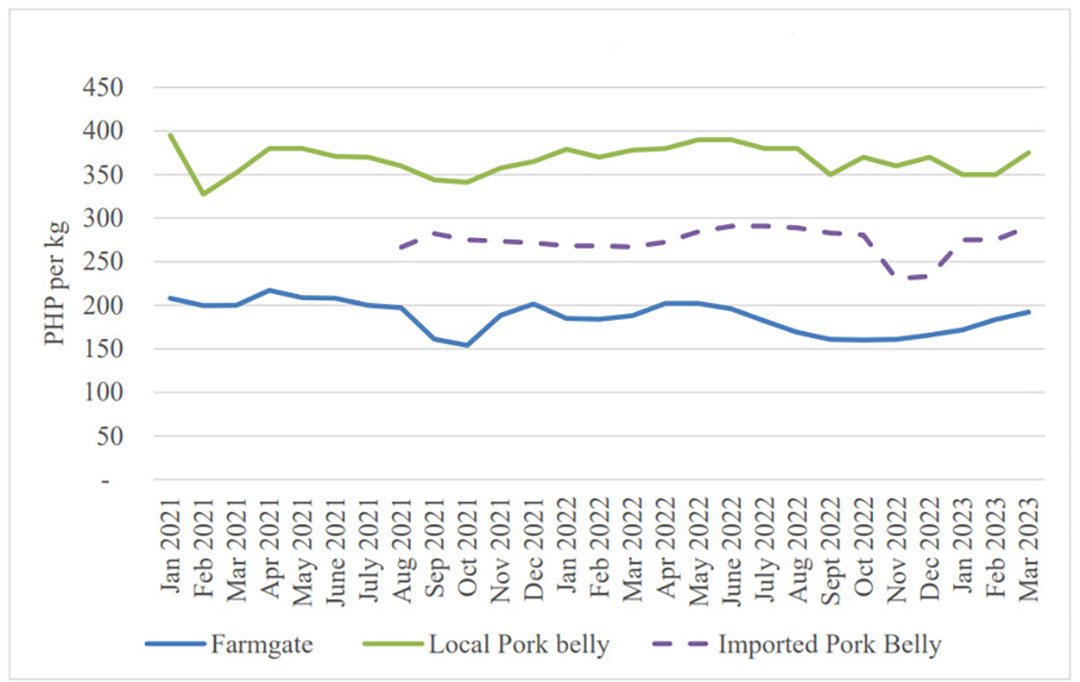 Source: DA-AMAS (Metro Manila retail prices); ProPork (farm gate prices)
Lower imports
The USDA report estimates pork imports to be down to 525,000 MT because of high pork prices in the international market and lower demand. President Ferdinand Marcos signed Executive Order (EO) No. 10, Series of 2022 in December 29, 2022. This extends lower pork tariff rates until December 31, 2023. However, the lower tariffs might not be sufficient to set off the influence of high pork prices in the international market and lower demand. Both poultry meat and fish production are expected to be higher for 2023, profiting of the ASF cases plaguing the pig sector.
Collaboration between the Philippines and Denmark
In a collaboration meeting on January 24, 2023, senior undersecretary Domingo Panganiban of the Philippine Department of Agriculture (DA) welcomed H.E. Franz-Michael Mellbin, Ambassador of Denmark to the Philippines and Palau. They discussed areas of cooperation towards increasing productivity and sustainability of the pig and fishery industries.
Semen import from Denmark
Ambassador Mellbin offered insights on the potential of semen imports from Denmark, which can help bolster the Philippines' efforts against ASF. In response, DA – Bureau of Animal Industry (BAI)'s OIC-Director Paul Limson, assured that current Philippines import and quarantine regulations focus on local and imported semen. Both countries also agreed to take knowledge-sharing opportunities to observe each other's best practices, and to study the latest technologies for efficient pig production.
Strenghtening the pig production sector in the Philippines
The collaboration is an opportunity to strengthen the troubled pig production, as it will further complement the existing repopulation programmes. Among the European Union member states, Denmark is the 9th top destination of Philippine agricultural export products and the 8th top supplier of imported agricultural commodities in the Philippines.