Dealing with PED virus (III)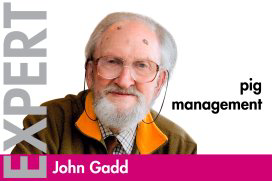 In the two previous episodes on this subject, I touched on the resemblance of Porcine Epidemic Diarrhoea (PED) virus to Transmissible Gastroenteritis (TGE) many years ago. I also emphasised the importance of national disease control coordination, and explained the stringent Standard Operational Procedures the UK has released, just in case virulent PEDv makes it to Britain. In this concluding column, I would like to look at several pieces of advice that have been given recently to North American pork producers to alleviate PEDv.
Each recommendation may need discussion, so I follow each piece of advice with my views on it.
1. Limewashing
All American producers advised the success of limewashing surfaces in the USA, with industrial space heaters needed to dry them overnight at 40°C – in preference to the standard detergent/approved-disinfectant sanitation routine.
Comment: Every farmer I contacted was asked if their veterinarians approved of this old-fashioned method. It seems most vets were hesitant. The producers claimed that limewash covered the cracks and inaccessible places satisfactorily and was cheaper. A typical reason given was: "Limewash really seals the crevices where those little critters can lurk – moreover you can see what you've covered." My view is that limewash is only preferable if unrendered concete blocks have been used for some surfaces.
2. Feedback
All farmers favoured and strongly advised feedback on all sows for three weeks as soon as an outbreak was diagnosed – of either the gut contents of some infected neonates or their minced-up intestines and digesta too. This works best, I was told, if the inoculum was taken from piglets noticed as being colostrum-deprived.
Comment: This practice has always worried me and I now never advise it as it can spread other diseases. I've seen bad cases of swine dysentery and E. coli scours occuring suspiciously soon after feedbacking, and more serious – a run of infertility problems. However, both many Canadian and US farmers were so adamant about its success in getting through a PEDv infection reasonably quickly that they have made me think. So what's the answer?
My advice now is that digesta feedback (never faecal) can be considered for this disease, but it must without exception be authorised by a responsible veterinarian who after tests knows the farm and it's disease profile history. Even more important is that the method be designed and carried out under his instruction only and not what the farmer or his staff thinks has worked in the past, or what other producers recommend. This protocol I have already advised in the past but was met with a degree of unconcern. Perhaps PEDv will help change this attitude? At least listen to your vet about it.
[([002_675_rb-image-2250600.jpeg]:inzetmiddel)]
Illustration from the recent virulent PEDv outbreak in Ukraine – staff were required to take drastic actions to prevent the further spread of the virus. [Photo: John Carr]
3. Weaning at seven days and destroying sick piglets
Most advised weaning at seven days and destroying piglets which become sick and are unlikely to recover. This was not my harrowing experience with TGE many years ago where all the neonates just died within a few hours after many different-colour scouring!
Today, the US advice is that piglets over seven days old and over (some advised ten days) should be moved to an offsite nursery as soon as the disease is diagnosed.
Comment: First seek an opinion from a veterinarian who knows the farm. Mass euthanasia on a sizeable unit can be brutal for the piglets and demoralising to the staff. Getting them 'out of the place' is all very well if you have the place to put them, but emergency off-farm accommodation is worth thinking about in advance. The Americans say it helps get over the outbreak more quickly.
4. Cross fostering
Some said it delayed recovery and elimination from the herd.
Comment: None yet – I prefer to wait and see. Difficult to judge, as the Americans I have visited seem less skilled at the seven variants of piglet swapping than us in Britain, Denmark and the Netherlands. Maybe those who were hit weren't cross fostering skilfully enough? But I remain prudent – or cowardly – in not saying so to them directly!
Optimism
Three notes of optimism behind all this understandable apprehension about contracting the virulent strain PED virus in Europe.
The American hog industry was so overwhelmed by the outbreak that suddenly there was a shortage of pigs. The price rose substantially, so those who had pigs to sell intially benefited from an excellent price. 'An ill-wind can do much good', as the old proverb says.
It has really brought home to producers in both the US and Canada what disciplined biosecurity and sanitation really entails. It shook them! The experience will hopefully encourage more investment of time and money in these areas – by all pig producers, not just those in North America.
How important is the veterinarian in thinking ahead about how to curtail disease. A feedbacking protocol under his advice, which could well change over time and circumstances, is just such an example.
Acknowlegements: To four US and three Canadian pig producers who gave their advice and shared their worries. To Martin Smith and Helen Brothwell of the British AHDB Pork (formerly BPEX) who advised on the advance PEDv countermeasures the British authorities have taken.