Danish Swine Congress: Focus on PEDv and MRSA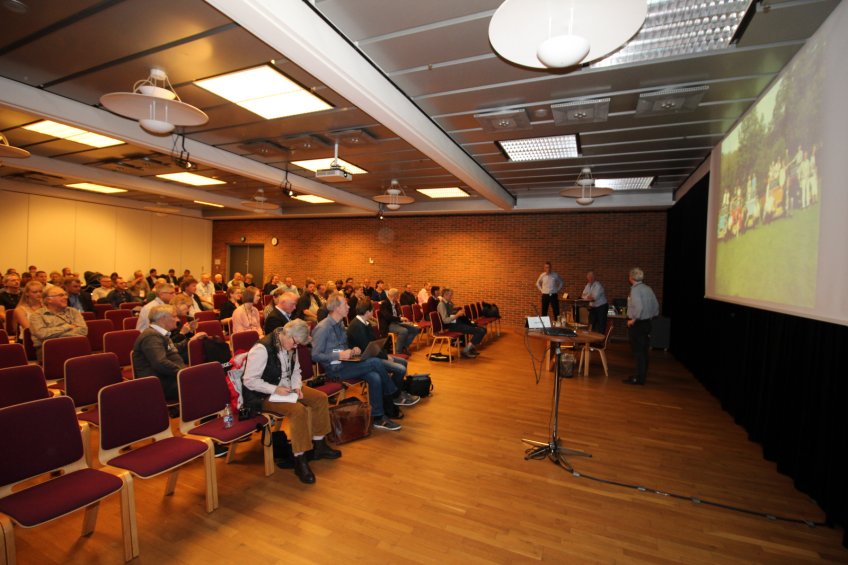 The first day of the annual Danish Swine Congress (Svinekongres) had a series of nice, informative presentations on pig health, touching on topical issues like Porcine Epidemic Diarrhoea virus (PEDv) and Methicillin-resistant Staphylococcus aureus (MRSA).
The annual event this year expects to draw around 2,000 swine industry experts from all over Denmark – one of Europe's leading pig nations – and beyond. The conference draws an audience from across the borders by having a good variety of English speakers next to the general conference which is in Danish.
PEDv – a global overview
Dr Andrea Ladinig, University of Veterinary Medicine, Vienna, Austria, gave a very nice global insight into the issue of PEDv. Not only she touched on the situation in the United States and Canada, she also hopped back to China where most likely the source is to be found for all recent PEDv problems in the US.
She highlighted the European situation and very nicely put this into a US perspective, so it becomes clear why PEDv has not become that big of a problem in Europe the way it has in the United States. Partly this is because the strain in the heart of Europe is caused by a less virulent version of the coronavirus, where in North America both this less virulent (S-Indel) as well as a highly virulent variety is circulating.
[([002_rb-image-2705547.jpeg]:inzetmiddel)]
The only confirmed case of highly pathogenic PEDv in Europe was reported late last year, having occurred in Ukraine by Dr John Carr, Dr Andrea Ladinig said. Officially, however, Ukraine says the country is free from PEDv. Ladinig also highlighted the recent 'Root Cause Investigation Report', released in the United States, which aims to figure out how PEDv came into the US in the first place. Flexible Intermediate Bulk Containers (FIBC bags), also known as 'tote bags' are one of the main culprits.
MRSA – very topical in Denmark
The theme of MRSA has undeniably been one of the more pressuring issues in Denmark of late. Dr Luca Guardabassi, an Italian researcher working for the University of Copenhagen, explained that in his view the Danish public opinion 'had derailed' with only selective bits of information being highlighted in the press 'because newspapers had to be sold', with panic in the public opinion and rather drastic political consequences from Copenhagen as a result. The Danish government spent 35 million Danish crowns (€4.7 million) to research the subject.
[([003_rb-image-2705550.jpeg]:inzetmiddel)]
MRSA is a drug-resistant bug which can cause problems in human health when older, ill patients are being exposed to the bacteria. Dr Luca Guardabassi was quick to point out that there is not 1 type of MRSA – in fact, there are many strains. The major type that is related to pigs (ST398) only causes 1 out of 7 MRSA infections and does not have any higher mortality than any other type of MRSA. He also said that ST398 is not among the 10 most common S. aureus clones associated with bacteriaemia. He also felt safe to conclude that 'the impact of MRSA on human health is significantly lower in Denmark compared to other countries'. ESBL-producing E. coli in his view would be a bigger threat.
MRSA – an issue years ago in the Netherlands
Prof Dr Jaap Wagenaar, a veterinarian attached to Utrecht University and the Wageningen Central Veterinary Institute, talked about how the Netherlands dealt with the MRSA crisis, a few years in the past now. "In the Netherlands, nobody speaks of MRSA anymore," he stated, pointing to figures which research has found.
In the Netherlands, there is a classical division between Hospital Acquired MRSA (HA-MRSA), Community Acquired MRSA (CA-MRSA) and Livestock Associated MRSA (LA-MRSA). The latter turns out to be a relatively harmless variety that – if it affects humans at all, it is fatal to very elderly, hospitalised patients with whom co-infection with a series of other ailments has been found. In the Netherlands, therefore, the policy towards LA-MRSA has become relatively relaxed.
[([004_rb-image-2705549.jpeg]:inzetmiddel)]
Prof Dr Jaap Wagenaar said, LA-MRSA is not only limited to ST398, he also mentioned strains in Italy (ST1), China and Malaysia (ST9) as well as South Korea (ST72). Still, having conducted intensive research with human medics, he said about hospitalised patients, "Unintended LA-MRSA positives in a normal ward are not very prone to transmit the strain to other patients. […] The burden to the public health system is considered to be limited." Wagenaar pointed to the MRSA case showing a clear need for antimicrobial usage reduction, by more vaccination, more attention for biosecurity and improved diagnostics. After all, he said about MRSA, "The use of antimicrobials facilitates colonisation and spread."