This most probably means that the finding of 1 dead wild boar due to African Swine Fever (ASF) near Zlín will not remain just an isolated incident, and seems that the virus has been spreading in the wild boar population in the area.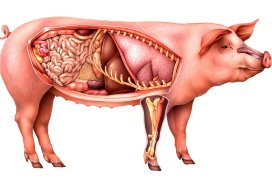 Far away from Poland and Ukraine
The worrisome part about the discovery of African Swine Fever in the Czech Republic is that it is over 400 km away from Ukraine, where the virus was earlier confirmed – and over 600 km away from Podlaskie province in Poland, where ASF also has been reported.
In the most recent figures by the World Organization for Animal Health (OIE), the 10 carcasses were found around Hvozdná, Příluky, Lužkovice and Želechovice. All villages are located very close to each other on the east side of the city Zlín. In each of the cases, 1 dead wild boar was found, after which samples were sent to the Czech National Veterinary Research Institute for confirmation.
The initial report of ASF in the Czech Republic dates from June 21, 2017; additional reports came in on June 27, June 29 and July 2 and 3.
ASF often caused by ignorance
So far, only wild boars have been reported to have been infected, no (small) farm operations have been reported to have been hit. What can happen when ASF hits a commercial swine farm can be read in this feature, when Pig Progress travelled to Lithuania to find out.
Although it is a relatively slow virus, African Swine Fever usually spreads faster in the summer time. Human ignorance is often thought to be the main reason for the spreading of the disease.
African Swine Fever in the European Union
The Czech Republic is the 5th country in the European Union to have been infected with African Swine Fever. Latvia, Lithuania, Estonia and Poland have been reporting outbreaks since 2014. Since its introduction in Georgia in 2007, the virus slowly spread to Armenia, Azerbaijan, Russia, Belarus, Ukraine and Moldova as well.