CRC: Super pea offers pork producers reliable protein source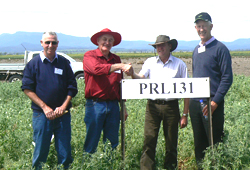 A new high yielding, disease resistant field pea released by Australia's Pork Cooperative Research Centre (CRC) for commercial sowing next year offers pork producers a reliable protein source.
Previously designated PRL131, the new variety, CRC Walana, is named after an aboriginal weapon, continuing the naming tradition of Yarrum and Maki, field pea varieties already released for Australia's northern region.
The Pork CRC has applied for Plant Breeders Rights for CRC Walana in Australia and has licensed Waratah Seed Company Ltd to market the variety.
According to Pork CRC Program One Manager, Dr Ray King, CRC Walana is resistant to powdery mildew and pea seed borne mosaic virus, has useful tolerance to bean leaf roll virus and is specifically suited to short season planting in northern NSW and southern Queensland.
"CRC Walana not only satisfies pork producers, but its large, spherical, white seed can also be eligible for lucrative human consumption and splitting markets," Dr King said.
In the photo above: Steve Moore, University of Sydney, Bernard Hart, Waratah Seed Company grower member of Junee, NSW, Adrian Russell, Plant Research New Zealand and Dr Ray King, Pork CRC Program One Manager, at a trial site of the new field pea CRC Walana, formerly known as PRL131.