Cephalosporin use drops by 99% in Danish pig production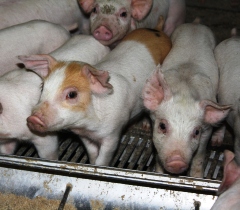 The consumption of the broad-spectrum antibiotic cephalosporin in Danish piggeries has plummeted by almost 99% over the past three years.
In 2009, Danish pig producers used about 99 kg of cephalosporins. The following year the amount was decreased to 49 kg, and in 2011 only used a single kg of cephalosporins was used in pig farming. This was reported by the website foodculture.dk, a publication by the Danish Agriculture & Food Council.
Danish agriculture decided in 2010, to voluntarily to phase out the use of cephalosporins, as it has been linked to resistance in humans.
"It's very positive that the consumption of cephalosporins in food animals has declined as resistance to cephalosporins is a rapidly increasing problem in both humans and animals," said professor Frank Møller Aarestrup from the National Food Institute.
Total consumption falls
According to figures from Vetstat the total antibiotic consumption in Danish pig production has fallen by almost a fifth, from 2010 to 2011. It makes Møller Aarestrup praise so-called 'Yellow Card' scheme, announced in 2010 to reverse the upward curve of antibiotics usage.
"The scheme has had far greater effect than I would have thought in my wildest imagination," he said.
The success had not surprised Danish Agriculture & Food Council's chief consultant Jan Dahl. What does surprine him, is the vastness of the decrease. He said: "I can well imagine that consumption rises slightly in 2012 because individual herds may have reduced the consumption so much that it can go beyond animal welfare."
Nature
The scientific journal Nature writes in the latest issue of the good Danish experience in reducing antibiotic consumption in animals. Moller Aarestrup gives several explanations, including the prohibition of growth promotion and establishment of Danmap, national surveillance of antibiotic consumption and resistance.
The professor also welcomes that the total consumption of antibiotics for livestock production in Denmark has reduced by 60% since the mid-1990s, without a fall in agricultural production.
Related website:
• Danish Agriculture & Food Council