It's not your most common sight, to see animals with an additional exit on the side. In research facilities, however, it is a way to figure out what is happening during digestion. That's why Ashley LaMontaigne, research farm staff, comes out of the pig house with a series of funny smelling samples freshly taken right from the pigs' intestines. During the eight-hour trial she is now in, she takes samples from what's inside the pigs' intestines every 30 minutes. That will tell her more about how the pigs deal with a particular diet or feed ingredient.
Green Acres Research Facility
She works at the Green Acres Research Farm, a research farm owned by feed additives company Novus International, at about an hour's drive west of St Louis, MO, United States. It's not numbers of scale that count here, but rather high quality and focused research. The farm studies the effects on digestibility and gut health when adding certain feed additives, such as enzymes.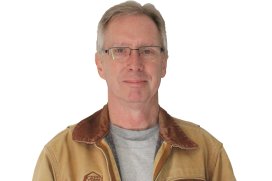 Thomas Skip Hampton, senior manager, product research at Green Acres Farm.
The farm has a capacity for 288 weaner pigs; there are no sows. This population will decrease as the pigs grow and trials proceed. From time to time, pigs will be culled during the trials for scientific purposes. The space that becomes available thus can be taken up by pen mates that have grown in size. Roughly half of the total amount of animals live until finishing weight of about 130kg.
The farm site was acquired in 2008. Initially the farm started out with horse nutrition trials, but once facilities were completed, the emphasis soon changed. One after the other houses appeared for pigs, poultry and dairy cattle. At first, specialised feed was prepared at the University of Missouri at Columbia, MO. Nowadays, the complex has five buildings, with two permanently housing animals and one is a specialised on-site feed mill, which can produce any ration that is required.
One of the buildings has two rooms devoted to growing pigs, four rooms for poultry in stacked cages, and a laboratory. Another building has the room for cannulated pigs, four rooms for poultry in floor pens, a poultry slaughterhouse. There is also a facility and weighing station for cattle of all sorts.
Measuring feedstuff digestibility
Only a small portion of the pigs at Green Acres Farm get cannulated, explains Thomas 'Skip' Hampton, senior manager, product research at the farm.
He explains, "We may have as many as 22, however, we typically use 18 for a study. The cannulated animals are mainly to determine how exogenous enzymes, like e.g. protease, affect amino acid digestibility in a variety of feedstuffs. In that case you need to know what is left of the feed by comparing what went in and what is left over before the feed enters the large intestine. In the large intestine, fermentation will take place, and that would obscure the results. This is why we need to cannulate at the end of the small intestine and not focus on faeces."
Green Acres Research Farm
Green Acres Research Farm is a 31 ha large property with five main buildings and a large outside area, near Montgomery City, MO, United States. The farm site was acquired in 2008 and construction started in 2009; the most recent addition was a feed mill. On the farm is place for a maximum of 288 nursing pigs, 84 cows, 12 Holstein steer and 5,500 poultry, mostly broilers. The farm, employing seven people, emphasises sustainability, with re-use of rainwater and the installation of 168 solar panels all around the farm.
Cannulating is a precise job – veterinarians and specialised Novus staff come in to do these surgeries. Young piglets are usually brought in from a farm in the area; the pigs get time to grow to 20-25kg to get adjusted to the new situation. A skilled person can do the surgery fairly quickly, in about 18-20 minutes; the pigs will be anaesthesised completely and will get analgesics and antibiotics following directions by a veterinarian. The pigs need roughly 10-14 days to recover from their operation. Then they are ready to take their part in the digestibility trials.
Collecting the digesta is fairly easy, Mr Hampton explains, "There is an adapter that we attach to the cannula that holds a collection bag. After feeding, the digesta will flow through the digestive tract as it would with a non-surgically modified animal. We simply divert some of the digesta into a bag to collect the sample."
Over the last five years, the company has evaluated several feedstuffs using the ileal cannulated pigs. Data is built into a database that is used to provide customers with accurate nutrient value for feedstuffs when exogenous enzymes are added to their feed. Additional studies, involving non-cannulated pigs, usually focus on the growth and performance of the pigs as indicated by weight gain, as well as feed intake and feed conversion.
Final destination
After the pigs have performed their duty, their final destination depends on the trials being conducted with them. In many instances, the pigs can be sent for commercial processing and the packaged meat is donated to local area food pantries. That, again, is a way for Novus to show its commitment to sustainability.