Braasch Biotech's alternative vaccine for swine productivity gets second US patent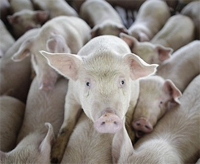 Braasch Biotech LLC was assigned US Patent 7,943,143B2 on May 17, 2011. The patent further expands Braasch's anti-hormone vaccine technologies for farm animal productivity.
The patent, Chloramphenicol Acetyl Transferase (CAT)-Defective Somatostatin Fusion Protein And Uses Thereof, is the second US Patent Braasch has received within the last year.
"Our impressive vaccine technologies provide a safe and cost-effective benefit to American Animal Agriculture and also for securing the global protein-food supply chain," stated Dr. Keith Haffer, President and Chief Scientific Officer of Braasch. "In one capacity, our vaccines will be used as an alternative method to benefit the swine industry nationally and globally, rather than use antibiotics to enhance animal growth."
A May 13, 2011 article in the Wall Street Journal, referencing Rep.
Louise Slaughter
(D., N.Y.), reported that livestock raised in the US are administered more than 20 million tons of antibiotic in their feed, raising concerns that mass dosing increases risks to human health. Dr Haffer further elaborated on this article, " By vaccinating pigs with the Braasch vaccine, we utilize the animal's own immune system to increase lean muscle mass and circumvent the need to feed antibiotics, thus reducing possible emergence of antibiotic resistance in bacteria that can threaten human health."