BPEX Live: Pig health advice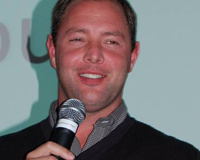 Pig producers from across the UK took part in the first BPEX Live interactive online workshop with Dr. Luke Minion (pictured), who spoke to attendees live from Minnesota, United States. He explained how his region's pig health improvement measures could be applied to the UK market.
Focusing on BPEX's recently launched Pig Health Improvement Project (PHIP) Luke noted: "The UK has an industry that could eliminate diseases such as PRRS through teamwork between producers, veterinarians, and the industry." He explained that it is vital producers know their neighbourhood health status first, in order to eliminate any disease from a particular area or cluster of farms.
He proposed that prior to producers forming an alliance they need to identify diseases within their herd. "This can easily be achieved with the help of the free biosecurity checks and action plans that BPEX offer any producer who signs up to the PHIP."
Luke then detailed the importance of groups of producers setting their own specific neighbourhood goals, since this will vary between groups.
He told the listeners that through collaboration and working together Luke's region, comprising some 35,000 sows has now managed to eradicate PRRS.
BPEX Live was chaired by BPEX's Veterinary projects manager Helen Clarke who said: "Collaboration between producers, supported by BPEX's dedicated regional teams is the backbone of the PHIP and, with the help of their vets, producers can use the tools available to them to tackle regional disease collectively."
Luke concluded by saying: "If your health status goals are aligned – our experience says you can find a way!"
Sign up to the PHIP is free for pig producers. Simply download an application form here.
Related website: BPEX