BIVI: Vaccine for pig respiratory diseases launched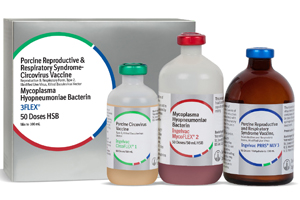 Boehringer Ingelheim Vetmedica, Inc., (BIVI), the US animal health division of Boehringer Ingelheim Corporation, introduces the 3FLEX 50 Doses HSB (head space bottle) vaccine for swine veterinarians and producers to control three of the most common respiratory diseases in pigs: porcine circovirus, Mycoplasma hyopneumoniae and porcine reproductive and respiratory syndrome (PRRS).
Each 3Flex vaccine package contains a bottle of Ingelvac CircoFlex, Ingelvac MycoFlex and Ingelvac PRRS MLV. The Ingelvac MycoFlex is supplied in a headspace bottle with extra capacity for purpose of aseptic mixing; making it easier to mix and administer all three vaccines in a single 2mL dose.
Sarah Jorgensen, senior brand manager, swine, for BIVI, says the significant production losses caused by these major swine diseases – PCV2, Mycoplasma, and PRRS – makes reducing the impact of these diseases even more important to producers and the swine industry.
"Recent research shows that while these diseases by themselves can reduce pig performance and increase mortality, co-infections of these diseases in combination can be particularly devastating, resulting in losses averaging more than $10 per pig," Jorgensen explains. "3Flex is an effective option when protection is needed against these three major diseases. Like all products in the Flex family of swine vaccines, veterinarians and producers have the ability to customise their disease control programs by selecting the right monovalent or combination vaccine that best fits their herd."
For more information please visit www.boehringer-ingelheim.com or www.bi-vetmedica.com.