Belarus stops pork imports from Ukraine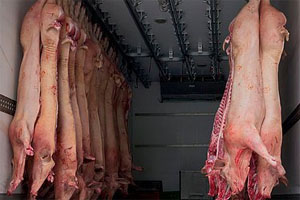 The Ministry of Food and Agriculture in Belarus has imposed a ban on the import of pork from Lugansk Oblast, Ukraine due to African Swine Fever (ASF) in the region, said a report.
"According to the International Office of Epizootics, a case of the African Swine Fever was registered in Lugansk Oblast, Ukraine. The pathological material from a dead wild boar has been taken," the directive reads.

In response to the restrictions Ukraine has banned any export of pork and pork products from Luhansk Oblast. State veterinary specialists are currently struggling to not let the virus penetrate the border regions.

"Ukraine's State Veterinary and Phytosanitary Service has introduced a ban on the export of live pigs and pork from the villages of Komyshne, Kolesnykivka and Yuhanivka in the Luhansk region in connection with a registered case of African Swine Fever (ASF)," according to the report.
"The three villages – Komyshne, Kolesnykivka and Yuhanivka – have now been quarantined. A ban on the export of pork from this area has been introduced in keeping with current laws," the director of the Veterinary Medicine Department Oleksandr Verzhyhovsky said.