Azerbaijan: ASF spread in Nagorno-Karabakh halted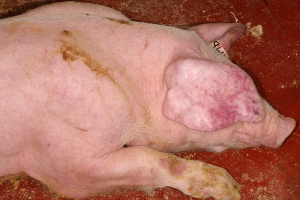 The measures adopted in Nagorno-Karabakh to prevent the spread of African swine fever (ASF) has already had the necessary effect, said the head of veterinary and animal inspection under the Ministry of Agriculture of the region. However, according to statistics in a number of areas where outbreaks have been reported, people still refuse to buy pork, being afraid of the virus.
"An extensive spread of ASF in Nagorno Karabakh has been prevented and in the last few days no new outbreaks have been reported," the chief of the state veterinary and animal inspection of the Ministry of Agriculture Tigran Arustamyan said at a press-conference.

The regional government is developing a programme to protect pig farming from any future threat of ASF. In the first weeks of February the government decided to fine pig owners 5,000-10,000 drams (US$12.3-24.6) if they violated veterinary rules.

Boris Alaverdyan, director of the Veterinary Station in the Stepanakert area, said in an interview with local media that his department is carrying out strict controls in shops and butchers, and on any meat brought in to the city market for sale. The meat is tested and only if the results are clear is it permitted to appear on market shelves.

However, the citizens are still nervous of the ASF virus and in recent weeks have completely avoided buying pork. As the result the volume of pork sales has dramatically dropped in the whole region.