That became clear in a recent study by researchers from Ghent University, Belgium, which was published in the peer-reviewed journal Veterinary Record.
Recurrent outbreaks of exudative epidermitis
The study was conducted in a commercial 1,000-sow herd facing recurrent outbreaks of exudative epidermitis (EE) during the nursery period. Its aim was to assess the efficacy of autogenous vaccination in controlling such outbreaks.
The research team produced the vaccine using 3 Staphylococcus hyicus isolates which were recovered from affected pigs shortly before the onset of the study. All of those isolates were positive for the crucial exhB gene, which encodes the exfoliative toxin type B (ExhB).
Vaccination vs non-vaccination
From 4 consecutive farrowing batches of sows, 2 batches were vaccinated against S. hyicus at 5 and 2 weeks before farrowing, and 2 sow batches remained non-vaccinated.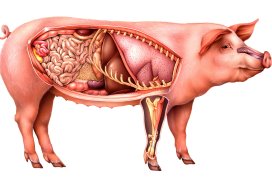 Want to know more about exudative epidermitis – or other pig diseases? Check our Health Tool
In their article, the researchers wrote that they determined vaccination efficacy primarily by the levels of metaphylactic antimicrobial usage, and the morbidity and mortality data for the pigs of both the vaccinated and non-vaccinated sows. The total amount of antimicrobials used metaphylactically against exudative epidermitis in pigs among the vaccinated and non-vaccinated farrowing batches was 39,600 and 88,550 mg, respectively.
The used daily dose pig to animal daily dose pig ratio for the vaccinated and non-vaccinated batches were 1.31 and 1.79, respectively (a ratio of 0.8 to 1.2 is indicative of correct dosing).
Morbidity and mortality rates
The scientists found the following rates for morbidity and mortality, respectively:
Vaccinated group: 6.50 and 2.59;
Non-vaccinated group: 14.36 and 5.02.
To conclude, the researchers stated, autogenous vaccination of the sows with a vaccine based on exhB-positive S. hyicus isolates reduced metaphylactic treatment with antimicrobials as well as the morbidity and mortality rates in weaned pigs compared with pigs from non-vaccinated sow batches.
The research paper was authored by Ioannis Arsenakis, Filip Boyen, Freddy Haesebrouck and Dominiek G.D. Maes, Ghent University, Ghent, Belgium.