ASF: Possible pig export ban has Estonian farmers worried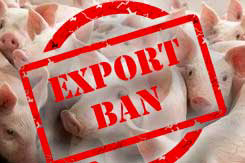 Estonian pig producers are afraid that the government soon may consider a ban on exports of live pigs to Latvia, Lithuania and Poland. The farmers believe the ban would mean bankruptcy for many pig farms, according to an interview with the local media ERR.
In particular, Estonian pig farmers say that a ban on the export of live pigs may be implemented due to the spread of African swine fever (ASF) but this step "would lead to the bankruptcy of dozens of farms".
Currently in Estonia there have been two confirmed cases of wild boar deaths due to ASF. To prevent further spread of the disease, the authorities tightened control over the activity of pig farms primarily in Southern Estonia.
The representative association of breeders Urmas Laht said weekly farms export up to 2,000 to 2,500 live pigs. If the ban is implemented it would be impossible to sell these products inside the country.
"Estonians export live pigs in Latvia, Lithuania, Poland, and earlier in Russia. This is also connected to the fact that local meat-processing plants do not pay the reasonable price for pigs. If restrictions on export would really be put in place, than the meat will stay in our market and sell at unprofitable prices. As a result, many pig farmers could go bankrupt," said Urmas Lahti.