African Swine Fever in the EU so far: 7 farms affected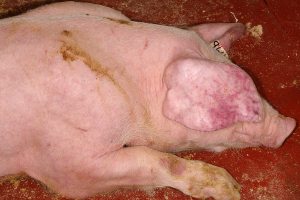 An up-to-date recap of all African Swine Fever (ASF) outbreaks in the European Union shows that seven farms have so far been affected with the virus.
All 88 outbreaks recorded took place in Latvia, Lithuania and Poland. A map, composed by Pig Progress on the basis of information reported to the World Organization for Animal Health (OIE), shows exactly where all reports came from so far.
The seven farms are different in size and vary from being backyard farms to modern, professional farms. Undoubtedly the largest farm so far was Rupinskai farm in Lithuania's Utena county, where 19,411 pigs fell victim to the disease or biosecurity regulations, late July.
In a farm in Latvia's Kraslavas county, ASF had broken out in a farm with 196 pigs, early August. Nine pigs were infected, the rest was destroyed.
All other outbreaks reported refer to villages or incidental wild boars.
The first outbreak within the European Union was reported in Lithuania in January 2014, shortly followed by a discovery in Poland in February.
For several years now, the virus has made many victims in the Russian pig population, also both in domestic pig and wild boar populations. The disease also affected the populations in e.g. Belarus, Ukraine, Georgia, Armenia, all not EU members.
See also the related Editor's view on this subject.