African Swine Fever discovered in Novgorod area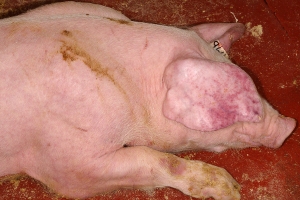 African Swine Fever virus of last week, was firstly recorded in the Novgorod region, stated representatives of Rosselkhoznadzor.
The outbreak of the disease in the Okulovsky hunting area during 7-11 May affected about 100 pigs. The source of this outbreak has still not been detected. The district administration has introduced  a state of emergency in the territory. Regional authorities have developed a draft program of the introduction of three security zones around the outbreak with a total radius of 150 kilometers.
"The place of ASF outbreak is currently closed to anyone who is not directly connected with its elimination,"  said a representative of the local administration. The farm has additional pickets, where police officers and veterinarians will be ion 24-hour duty.

After incineration of wild boar carcasses in the hunting area and pigs at the local farms, all the wooden structures near the place of outbreak will be burned while on the other constructions and the ground it will be sprayed with special chemicals.

After the chemicals being applied to the soil, the soil will be removed by a bulldozer to with a depth of 10-15 centimeters, and buried far away in special trenches. These are the new rules in the fight against ASF that has been adopted recently.

"In the coming days in an area adjacent to the outbreak, all pig livestock will be destroyed," said an administration official.
(By )