Pig and poultry farmers protest at SPACE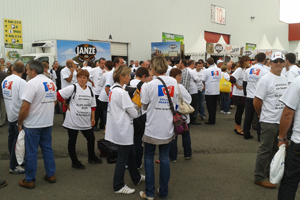 A crowd of poultry farmers and workers from groupe Doux processing gathered at the SPACE fairgrounds on the third day of the event. They wanted to send a clear message to visiting French prime minister Jean Marc Ayrault.
As riot police prepared for the worst, in previous years farmer protest regularly escalated into violence, the prime minister decided to shorten his visit as much as possible. He only spent one hour at the show from 4 to 5 pm, without making any spectacular announcements for the farmers nor addressing their concerns. Except from some shouting and swearing, the poultry farmers constrained themselves.

Earlier in the day, pig farmers also protested by sitting on a small pig-decorated train which was slowly dragged through the crowds inside and outside the halls. They hope to see firm policy changes as many producers in Brittany nowadays decide to stop. Many point to environmental legislation being too tight to be able to make money.