Miratorg increased pork production and processing in 2014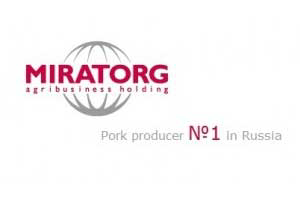 In 2014 Miratorg increased pork production by 8% year-on-year to 370,000 tonnes in live weight, according to the company's official report.
The growth of production indicators has been provided by the commissioning of new production capacities in Kursk Oblast of Russia as well as the improving of the efficiency indicators of all pig production division of Miratorg.
At the same time the overall meat production of Miratorg in 2014 jumped by 14% to 493,000 tonnes. The company currently implementing large poultry and beef project to diversify its meat business.
The representatives of Miratorg also reported a strong increase in the volume of meat processed at the 'Korocha meat processing plant' in Belgorod Oblast. The total volume of processed products here in 2014 increased by 6.6% year-on-year to 292,000 tonnes.
According to official information, the production of products in consumer package jumped by 42% year-on-year up to 33,300 tonnes.
Miratorg is the largest producer of pork in Russia with the total share of the Russian market of 13.7% in 2013. It is expected that the growth of production will let the company strengthen its position on the domestic market.