Pig breeder Hermitage opens new AI stud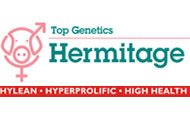 Irish pig breeding company, Hermitage Genetics, has opened its new pig artificical insemination stud at Callan in the county of Kilkenny, Ireland, the Irish Farmers Journal reports.
The Irish minister for agriculture, Brendan Smith, was present to celebrate the inauguration.
The new stud is a 110 m facility, with individual stainless steel pens for 240 boars. The company's AI director, Ronan Murphy, said that collection of semen is automated so that up to 35 boars can be collected per hour through six collection stations.
Pig AI in Ireland
The company holds a 75% market share in Ireland, and has also expanded rapidly overseas, with 60% of turnover generated internationally. The company has exported pig genetics to 35 countries.
The company employs 100 staff in 13 countries. The company currently has around 400 boars in Ireland.
As well as semen, the company exports approximately 20,000 breeding stock per year. Russia has been one of the most important destinations recently; Spain and Italy also being important markets.
Related websites:
• Hermitage
• Irish Farmers Journal