PEOPLE: New product manager swine at Nuscience Group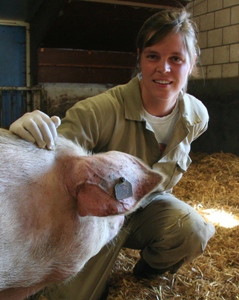 Marrit van Engen started at the 1st of March as product manager swine in the Nuscience Group, the Netherlands (former Pre-Mervo).
After her studies in animal husbandry at Wageningen University and veterinary science at Utrecht University, Van Engen worked for almost seven years at an independent pig farming consultancy practice. She is a strong promoter of focus on the pig and pig behaviour in farm management.
She wrote two practical books in the series Pig Signals, one on sows and one on piglets. At Nuscience, Van Engen will manage the swine product range, give technical support and advise clients in order to support their goals. In her new job she is able to combine the company's knowledge of feed ingredients and her experience of pig health, welfare and farm management.
Nuscience is an expert in premixes, mineral feed, concentrates, young animal feed and health-promoting feed ingredients.
Related website:
• Nuscience Group