Dutch welfare org: Stop pig castration in Belgium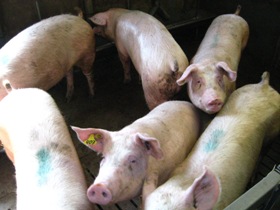 A Dutch pig welfare organisation has launched a plea to seven Belgian supermarket chains to stop selling pork from castrated animals.
In a press release, the foundation, called Pigs In Need (Varkens In Nood), added that "nothing stops supermarkets in Germany and Belgium to follow the good example in the Netherlands." The discounters included Aldi-Markt, Carrefour, Champion, Delhaize, Lidl Belgium, Rob – the Gourmets' Market and Spar Retail.
According to the press release, 35% of pork sold in the Netherlands would be coming from animals that were not castrated. The foundation claims discounters Aldi, Lidl, Hema, restaurant chains La Place and McDonald's and the holiday home villages of Center Parcs have made that step. The foundation claims that this did not lead to any increase in complaints about the meat.
Pointing at research that indicated chances for boar taint to be 'very small', the foundation says that in case of doubt detection at the slaughter line should be the way ahead. It is unclear whether Belgian discounters will pay attention to the Dutch actions.
Firm lead
The Netherlands has several animal welfare organisations which have taken a rather firm lead communicating with members of the public with regard to animal welfare matters. Being pro-active in their approach, they continuously organise remarkable actions and reach customers through radio advertising, in order to change matters with regard to animal welfare.
The foundation is thinking about actions or judicial procedures if the discounters decline to talk. In the Netherlands, two discounters are currently in a judicial fight with the foundation.
On another note, the Netherlands' discounters have already reached a voluntary agreement in which supermarkets agreed not to sell pork from pigs castrated without the use of anaesthetics. This happened last year.
©