Cargill to open sow innovation center in Kentucky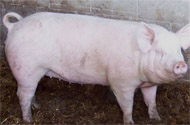 The Cargill Pork and Cargill Animal Nutrition businesses of Cargill, Inc., have collaborated to open the Cargill Sow Innovation Center located in Sugar Grove, Kentucky, USA in support of the company's animal welfare efforts and to further improve pork production.
Cargill's presence in Sugar Grove dates back to 1992. Employees at the center will conduct research focused on maximizing sow lifetime reproductive performance, increasing pig weaning weight, improving pig nutrition while also developing new and better farm production management tools, techniques and systems. The facility will incorporate gestation group housing, as well as evaluate alternative housing for sows giving birth to litters of piglets (farrowing).
©
The center is the result of an extensive $1.5 million dollar upgrade and renovation, will house 1,800 sows and employ 10 people whose expertise includes animal nutrition, animal husbandry, sow productivity, and data management. The project combines Cargill Pork's extensive swine production expertise and experience in farm management with Cargill Animal Nutrition's swine nutrition and feed formulation knowledge and expertise.
©
Animal welfare
"Health and welfare of the animals we harvest at our pork plants is important because humanely handling sows and their piglets results in better animals and improved meat from those animals," stated Dirk Jones, president of Cargill Pork. "We've worked with Dr. Temple Grandin, noted animal welfare expert at Colorado State University, who has helped us design live animal portions of our facilities, in addition to helping us better understand the importance of proper animal handling. Our new Sow Innovation Center will now enable us to further improve the gestation and nutrition requirements for these animals, which is important. As pork demand continues to increase, investments such as the Sow Innovation Center allow Cargill to provide improved products and services to our customers and help them grow their businesses."
©
Cargill harvests approximately 10 million swine annually at its facilities in Iowa and Illinois, making it the fourth largest pork processor in the U.S. The company's live production operations raise approximately 2.5 million market swine annually, making it one of the largest swine producers in the nation. In addition to raising swine, Cargill purchases swine from producers throughout the Midwest. Cargill's pork operations employ approximately 5,000 people.
©
"This collaboration within Cargill will reinforce our leadership position in animal nutrition and benefit our customers around the world," explained Joe Stone, president of the Cargill Animal Nutrition business. "Pork production can be improved by nutrition, health and genetics. We have the nutrition expertise and resources to continuously explore and develop new products and services designed to improve production and pork quality as well as reduce environmental impact."
©
"Cargill's new Sow Innovation Center, with its focus on animal welfare, demonstrates our leadership position in, and ongoing commitment to, further improving living conditions for swine that become sources of animal protein for human consumption," said Mike Siemens, Ph.D., who heads Cargill's animal welfare efforts. "It is the right thing to do, in addition to being good business."
©