New outbreaks of Foot-and-Mouth Disease in Vietnam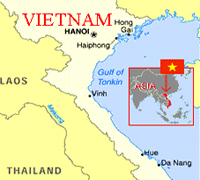 The Vietnam Department of Animal Health reported new outbreaks of Foot-and-Mouth Disease (FMD) in Long An province, in the country's south.
This was reported by Pro-Med Mail, an update service by the International Society for Infectious Diseases (ISID). On January 31, four municipalities (Phu Ngai Tri, An Luc Long, Hiep Thanh and Hoa Phu) of Chau Thanh district were affected by the outbreak.
On February 9, a new case was reported in a farm located in Duc Tan commune, Tan Tru district. Until February 16, a total of 188 pigs have been reported infected by the disease, of which 86 died.
Preventive measures
Currently, authorities are carrying out preventive measures. Vietnam is growing strongly in both dairy and swine industry and the presence of FMD makes the importing of breeding animals difficult. Often, these animals come from countries where there is a FMD-free status and where vaccination is forbidden – hence a quarantine phase is necessary.
The last outbreak in Vietnam in pigs was reported in October last year.
Related website:
• Viet Nam Department of Animal Health